Free Brain Games - Full List (Scroll Down)
NOTE: This is the old brain games list. Please visit the Free Online Brain Games page for the current online games.
Below are all the free brain games on this website, listed alphabetically. There are over 250 games on this site to train your brain! Play them online anytime.
You can also find games using the "Free Brain Games" drop-down menu at the top of this page, or the Free Online Brain Games box in the right column.
For instructions on how to run the games, please see the How to Open the Games page.
To keep your brain sharp, play a variety of games. Don't only play your favorites every time.
Instead, try other categories from time to time. For example, if you always play board games, switch to math games or word games occasionally.
It is by playing a range of free brain games that your brain can become more well-rounded and proficient at a variety of tasks.
If you like the free brain games on this site, you might want to bookmark this page. This page makes a convenient starting off point when you're ready to begin playing.
Brain Skills and How to Train Them
Here are a few of the brain games with the brain skills they train shown underneath:
As I explain on my Brain Games Training page, different brain games strengthen different mental attributes. In other words, it is a bad idea to limit yourself to playing the same types of games all the time.
For instance, I've known folks who love working the daily crossword puzzle in the newspaper. My grandfather was that way, and he was very good at solving them.
However, crossword puzzles mostly train verbal memory, along with logical reasoning to a degree. But when you practice with crossword puzzles, there is little or no transfer to general intelligence, long-term memory, or to other brain skills.
Thus, you should spread your time amongst various brain games. If you worked a crossword puzzle yesterday, try to solve a Sudoku math puzzle today. If you played 3D Chess today, try the Cube Field concentration game tomorrow.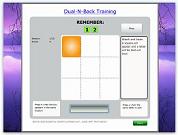 There is, however, one very notable exception. That is the Dual N-Back game. Recent studies concluded that dual n-back training does transfer to working memory and IQ. Yes, that's right: dual n-back strengthens working memory, and this in turn leads to higher scores on intelligence tests.
You can probably tell that dual n-back is my favorite free brain game. In fact, if you only had time to play a single game on this site each day, dual n-back is the game that would give you the biggest bang for your buck in terms of mental development.
Unfortunately, the dual n-back game as utilized in research studies (which the free dual n-back on this site matches) is boring. Playing it kind of gives me a headache, to be honest. I guess because my neurons are being pushed to their limit!
Regardless, the benefits of a higher IQ and stronger working memory are too tempting and valuable to ignore. Playing dual n-back is well worth 20 minutes of my time each day.
Published: 04/10/2012
Last Updated: 06/11/2020