June 10, 2017 | View in Web Browser
Your Memory Tips Articles Read More
Too Much Stress Can Worsen Your Memory
It's true: extreme stress can lead to problems with learning and memory. Stress can make it harder for your brain to retrieve existing memories or form new ones. The effects are even worse if the stress lasts a long time. Here's what you can do about it.
My Life Post Brain Surgery
Think your life is tough? This is a true story about life after brain surgery, submitted by a visitor named Yolanda. Her brain operation had serious side effects, but Yolanda has chosen a positive attitude toward life despite her difficulties.
Two Powerful Ways to Improve Your Memory
Strengthening both your natural memory ability and your trained memory is the way to obtain the most powerful memory it is possible for you to have. Take advantage of both. Let me show you how!
FREE AND FUN Thinking Game
DEFEND YOUR CASTLE: Join me on Goodgame Empire, a castle-building strategy game. Form an alliance or go it alone, and build up your walls and your army.

My character, Sir IronThor, has reach level 68 and is still going strong. Goodgame Empire is free-to-play. See you in the game!

Note: Goodgame Empire can be only played on a desktop browser. If you are viewing this on mobile, return to this link next time you're on a desktop computer.
FREE Online Brain Games: TIME MANAGEMENT Games
There are over 250 free brain games on my website, Memory-Improvement-Tips.com. Play them in your browser anytime.

Below are links to three online games that train time management. Time management means completing objectives by selecting and using the right resources under the pressure of time.

Play these free games now to give your brain a boost. No restrictions, no logging in. Just pick a game, go to the game page, and start playing.

Note: For the games to run, the free Adobe Flash Player must be installed in your browser. (See here if you need help.) The games work best on a desktop computer using Google Chrome or other modern browser.
Deep Diver game
Ready to pilot your own submarine? In this time management game, you'll hunt for underwater treasures like sunken chests of gold and jewels, rare valuable fish, and more.
Epic Rail game
Here's a free online train game. You are traffic control director of the railroad. Your goal is to drop off the passengers from each train at the correct stations.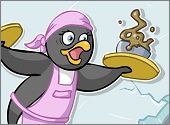 Penguin Diner game
You are Penny the Penguin, waitress at the newly opened Penny's Diner in Antarctica. Fill your customers' orders efficiently and accurately for high scores and to make extra money for upgrades.
That's all for now. Thanks for reading!
For even more strategies for improving your brain, visit the Get a Better Memory page on my website.

If you like the website,

tell your friends and family

about it. And please click the Facebook "Like" and Google +1 buttons on my site. Every vote of confidence helps.



Best regards,



Douglas Jobes
Author, Memory-Improvement-Tips.com

To view previous issues of this email newsletter, please visit my Back Issues page.
---
Privacy Policy | Disclaimer & Terms | Contact | Subscribe | About
This is not medical advice, diagnosis, or treatment. More information