Deep Diver 2 - Free Brain Game
NOTE: This is an old Adobe Flash game. It no longer works.
Please visit the Free Online Brain Games page for the current online games.
In Deep Diver 2, you'll hunt for underwater treasures like sunken chests of gold and jewels, rare valuable fish, and more.
To begin, click the Small, Medium, or Large link under the picture of the game. This opens the game in a pop-up window.
Complete dive missions to earn cash. Use your earnings to upgrade your sub, so you can dive deep and stay underwater longer.
Deep Diver 2 - Instructions
But watch out for sharks and the giant octopus! They'll ruin your day for sure.
This time management game is so much fun, you'll forget you're training your brain. Games like this strengthen brain skills like working memory, task switching, and logical reasoning.
HOW TO PLAY. The object of Deep Diver is to complete underwater treasure hunting missions for your employer. As the captain of a deep water submarine, you'll need to operate your sub efficiently and safely.
Use the ARROW KEYS to pilot your sub. Press the UP/Down keys to resurface/dive. Press the LEFT/RIGHT keys to move laterally underwater.
This game gives you a taste of what it's like to command your own submarine. It's a resource management game, where the objective is to collect treasures on the ocean floor.
In Deep Diver, missions are assigned to you by your employer. He has already mapped out likely locations of valuable wrecks and other underwater treasures. Your job is pilot the submarine deep underwater and retrieve those valuables.
Diving down and locating the treasures is only half the battle, though. You also need to manage your submarine during each dive. This includes monitoring your air supply and the underwater pressure bearing down on your sub.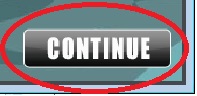 Click "Continue" to start game
To begin, click the CONTINUE button on the FOG.com screen. This opens the Deep Diver game. To start playing, click the Start Game button.
As the game progresses, you'll have the opportunity to upgrade your submarine with cashed earned from missions. Upgrading your air tanks, hull, and engine allows you to dive deeper, longer, and more safely during future missions. Choose your upgrades wisely!
The View Menu in Deep Diver 2
Dive-related activities begin on the dive ship, which is anchored at the dive location. Locations aboard the ship include the Map Room, Maintenance Room, Trophy Room, and Specimen Room. The View Menu is how you move to different locations on the ship.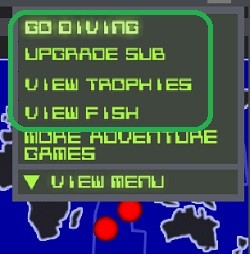 View Menu
Options in this menu include Go Diving, Upgrade Sub, View Trophies, and View Fish. Before starting a mission, visit the various rooms to review mission objectives, upgrade your submarine, or examine trophies and marine specimens you've collected.
Go Diving. Select this option from the View Menu when you want to begin a new dive mission. This option takes you to the MAP ROOM.

Upgrade Sub. This option takes you to the MAINTENANCE ROOM, where you can purchase hull, air tank, or engine upgrades for your submarine.

View Trophies. This option takes you to the TROPHY ROOM, where you can admire trophies you've collected from previous dives.

View Fish. This option takes you to the SPECIMEN ROOM, where you can examine live marine creatures you've collected.
The two most important rooms are the Map Room and Maintenance Room. Visit the Map Room to start dives. Visit the Maintenance Room to upgrade your sub.
Rooms on the Dive Ship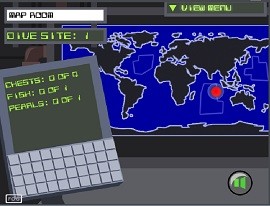 Choose missions in the Map Room
MAP ROOM. The Map Room is the first location to appear in the Deep Diver 2 game. This room is where you plan your dives. Your next dive location is indicated by the red dot on the wall map. Click the dot for details about the next assigned dive mission.
In the image at right, the location for Dive 1 is the Indian Ocean. When I click the dot on the map, details of the dive appear on the computer readout. In this case, the goals of this dive include finding 4 chests, capturing 1 exotic fish, and collecting 1 pearl.
Note: You must also collect a hidden map piece during every mission. The map piece is somewhere underwater. Finding the map piece causes your next dive mission to appear on the map.
MAINTENANCE ROOM. Upgrading your sub between missions is critical to your success in Deep Diver. The Maintenance Room on the dive ship is where you purchase and install submarine upgrades.
You'll soon notice that your sub runs out of air fairly quickly in the beginning. This means you need to return to the surface frequently to refill your air tanks. Otherwise, you risk perishing deep underwater when your air tanks run out.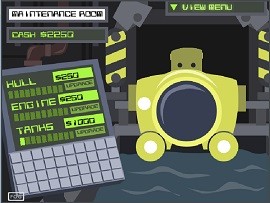 Upgrade your sub in the Maintenance Room
Air tanks running out too soon? No problem. Just buy larger tanks in the Upgrades shop. To purchase an upgrade, click the UPGRADE button underneath the price.
Aspects of your sub that can be upgraded include the hull, engine, and air tanks.
Hull. As you probably know, pressure per square inch increases with depth. Simply, the deeper you go, the more water there is around your sub pressing on the hull.

You start Deep Diver with a basic sub that has an average metal hull. You won't be able to reach far depths with the starter hull. It simply isn't strong enough. Your sub will literally be crushed by the pressure.

So to progress to later missions, which generally involve diving deeper, you'll need to upgrade to a thicker, stronger hull. It's just the price of doing business.

Engine. You start the game with a cheap, slow engine. Of course, this means it takes longer to retrieve underwater treasures. Plus, a slow submarine means greater chance of running out of air.

For these reasons, it's smart to upgrade your engine as soon as your cash flow allows. The faster you can dive, collect the valuables on your list, and return to the surface, the better your odds of completing your missions successfully.

During your first dives, most treasures are located in shallow water. Later, the good stuff is deep. That means you'll need a more powerful engine to be able to go deeper and still have time to get back to the surface before your air runs out.

Tanks. Besides being crushed by high water pressure, the worst thing that can happen to you in Deep Diver is to run out of air. That's why upgrading your air tanks is so important.

As you get paid for successful dives, be sure to upgrade to larger-size air tanks. Bigger tanks gives you the ability to stay underwater longer.
TROPHY ROOM. Reaching certain objectives in Deep Diver can earn you a trophy. You can view your trophies in the Trophy Room (select View Menu → Trophy Room).
There are 12 trophies you can earn:
Adventurer. Collect all Atlantic Ocean treasure chests.

Mother of Pearls. Collect all pearls.

Octoprodder. Shake off 5 Octopus grabs in one dive.

Pathfinder. Collect all treasure chests from the Indian Ocean.

Navigator. Collect all map pieces.

Shark Diver. Avoid the shark frenzy!

Explorer. Collect all Pacific Ocean chests.

Efficiency. Collect 5 treasure chests in one dive.

Deep Diver. Reach the deepest part of the ocean.

Biology Hero. Collect all rare fish.

Monopoly Man. Make $1 million.

Speed Run. Finish the Deep Diver game in under 45 minutes.
SPECIMEN ROOM. A large salt-water tank in the Specimen Room holds the live, rare fish you've collected.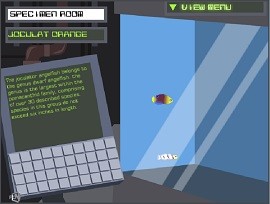 Specimen Room
Hover your mouse over a specimen swimming in the tank to view a description of the fish species. The description appears on the Specimen Room computer screen. For example:
JOCULAT ORANGE. This jocular angelfish belongs to the genus dwarf angelfish. The genus is the largest within the pomacanthid family, comprising over 30 described species. Species in this group do not exceed six inches in length.
How cool is that? A mini marine biology lesson embedded in a brain game.

Managing Your Sub During a Dive
Of course, you'll never earn those trophies or collect those fish if you don't survive the dive. To do that, you need to manage your Deep Diver 2 submarine as a good sub pilot would.
Dangers you'll encounter include running out of air; crushing of your ship due to high underwater pressure; and aggressive sea creatures.
AIR SUPPLY. The air tanks on your sub hold a limited amount of air. So the main risk of poor sub management is running out of air before you get back to the surface! Keep a close eye on the air gage on the right side of the screen throughout each mission.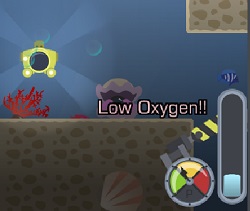 Low Oxygen - Resurface Immediately!
If you spend too long underwater, a warning message "Low Oxygen" begins to flash onscreen. To avoid running out of air, return to the surface right away.
Be sure to keep a close eye on the underwater green dive map in the upper left corner of the screen. That way you can avoid getting lost or getting caught in a maze of coral while your air supply runs low.
DEEP SEA PRESSURE. As in real submarine expedition, in Deep Diver underwater pressure is a concern. Make sure to upgrade your hull as you earn money from missions. This will help ensure your submarine isn't crushed in the deeper reaches of the ocean.
During dives, keep an eye on the pressure gage. This is the round gage to the left of the air supply gage. As long as the arrow is pointing to the black, green, or yellow sections of the gage, pressue outside the sub is not dangerous.
Once the arrow reaches the red section of the gage, you've gone too deep. To go any deeper, you'll need to upgrade your sub's hull.
DANGEROUS SEA CREATURES. Some missions include encounters with dangerous sea creatures. Be especially wary of the powerful octopus and aggressive sharks.
Avoid any dangerous sea creatures you see. If a giant octopus gets hold of your sub, you'll be delayed returning to the surface and may run out of air. I'm not sure what the sharks do (I haven't run into any yet), but I suspect they may be able to damage your hull.
Collecting Treasures & Completing Missions
Before you start any mission, be sure to review the mission goals displayed on the computer screen in the Map Room. The items you need to collect are listed, and you should take note of the quantities of each that you're required to retrieve during the dive.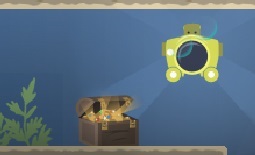 Treasure Chest
Types of treasures that can be found during dive missions include treasure chests, rare fish, pearls, and map pieces:
CHESTS. To collect a treasure chest, simply touch the chest with your sub. To keep the money, you need to take the chest to the surface. (In other words, if you perish on the way up, you lose that money.)

RARE FISH. You'll see lots of fish during your missions. Keep an eye out for the glowing, exotic fish because you'll need to collect some of these. To collect a fish, touch it with your submarine.

PEARLS. Finding and retrieving valuable pearls may also be on your list of goals for the mission. To find pearls, look for clams. To collect the pearls, touch them with your submarine.

Map Piece in Bottle

MAP PIECES. To complete a mission, you must find any hidden map pieces. These pieces are located somewhere underwater near the other treasures.

The map piece is located in a green glass bottle resting on one of the coral shelves or on the ocean floor.

If you don't find the map piece, you can't start another mission. When you find a map piece, the new dive location will appear on the wall map in the Map Room. After you resurface, click the new location on the map to start that mission.
Due to limited amount of air in your tanks, you'll usually be unable to collect all the items on your list during a single dive.
Collect as many items as you can until your air begins to run low, then return to the surface to refill your air tanks. Dive and resurface in this manner as necessary until you collect all the treasures.
RETURNING TO THE SHIP. Once you've retrieved all the chests, fish, and pearls for that mission, it's time to return to the dive ship.
To do this, resurface and click the sweeping blue arrow located on the ocean surface. This returns you to the Map Room on the ship.
Don't forget to visit the Maintenance Room before starting the next mission if you need to purchase upgrades for your sub.
For a Flash game, Deep Diver is very detailed and interesting. It's one of the most impressive time management games I've seen. Looking for more games like this? Give Mega Miner a try.
Published: 12/08/2013
Last Updated: 06/11/2020