Fun Word Search Puzzles - Play Free Online
Below are 6 fun word search puzzles for you to solve. These are online word searches. You solve them in a pop-up window, not on paper.
Puzzle themes include Circus, Dragon, Halloween, Hero, Ninja, and Pirate word searches.
(For even more word searches, check out my free online word searches page.)
Word searches are one of my favorite types of puzzle. They train concentration and visual perception which are important brain skills.
Under each puzzle image below is a "Play" link. Click the Play link to open the word search in its own pop-up window.
The word search puzzles below are timed. You only have a few minutes to find all the words before the timer runs out.
Don't like timed puzzles? There are even more word searches on my free online word searches page. Those are untimed puzzles.
A timer can be a good thing, though. It adds pressure to not only find the words, but find them quickly. That makes a better brain training exercise.
Fun Word Search Puzzles - Instructions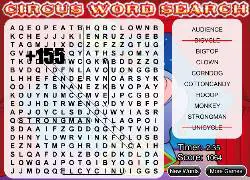 HOW TO PLAY. These fun word search puzzles were created by the same developer, so they follow the same rules.
When you click the Play link under the puzzle image, the word search puzzle appears in a pop-up window. A short advertisement display while the game loads.
Click the Play Game button in the lower right of the window to open the word search. Then click the PLAY button on the lower left of the puzzle to begin solving it.
You have 4 minutes to find all the words in the puzzle. Words can be horizontal, vertical, at a diagonal, or even backwards.
To circle a word, click the first letter of the word. Drag your mouse across the word, the let go of the mouse button.
Be careful to not select wrong words. Each incorrect word that you circle deducts 25 seconds from the timer.
The word is crossed off the word list automatically when you circle it in the puzzle
Why Timers Are Important in Brain Training
As mentioned above, the fun word search puzzles on this page are all timed. Some people don't like that, but it's actually a good thing.
You need to stretch your brain in order for it to grow more powerful.
When training your brain to improve concentration, memory, reaction time, and other brain skills, it's necessary to push the envelope.Even fun word search puzzles can help you do that, especially if they are timed.
Consider setting a timer when you play any brain game. For example, when playing chess, set a two-minute timer for your moves.
You can do the same with card games, board games, and many other games of skill.
As your ability to solve the game improves, shorten the allowable time for each move. This forces your brain to think more quickly and encourages the formation of new connections between neurons.
Games distributed by FlashGameHQ.com. Used with Permission.
You May Also Like
If you found the page above interesting, fun, or useful, please click the "Like" and/or "G+" buttons below. Feel free to leave a comment as well. Thanks very much!