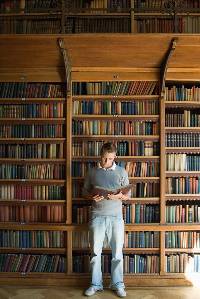 So much to remember, so little time
Welcome to the JANUARY 2016 issue of my free Memory Tips email newsletter. Below are powerful strategies for improving your memory. Ready to boost your brain power?
Below are powerful strategies for improving your memory. Plus I've included links to free online brain games that can strengthen your thinking skills.
In this issue:
Singing Improves Memory & Mood in Early Dementia Patients

3D Video Games Could Improve Your Memory Recall

Rosemary Scent May Help You Remember to Do Things

FREE Brain Games: Improve TIME MANAGEMENT skills
If you like this newsletter, "pay it forward" by sending this to a friend. If someone did forward this to you, and if you like what you read, please subscribe by visiting the Memory Tips subscription page.
My goal is to help you learn faster and remember more. That's why I created Memory-Improvement-Tips.com and this email newsletter.
The secret to a more powerful brain is two-fold: 1) improve your brain health, and 2) learn memory techniques. This can lead to more success and fulfillment in life!
Singing Improves Memory & Mood in Early Dementia Patients
If you or someone you love has been diagnosed with Alzheimer's dementia, the first thought after recovering from shock might be, "Can anything be done?" While there is no cure, it turns out that singing favorite songs each day just might help. A new study concludes that singing can measurably improve both memory and mood in early-stage Alzheimer's disease.
Recently, scientists at the University of Helsinki in Finland partnered with the caretakers of 89 individuals with mild-to-moderate dementia. The goal was to determine whether "musical coaching," which involves singing lessons as well as listening to familiar songs, might relieve dementia symptoms.
At the end of 10 weeks, it was discovered the musical intervention had improved memory and mood compared to patients who had not participated in the musical activities. Patients under the age of 80 and in the earlier stages of Alzheimer's benefited the most.
According to the study, the person's musical background had no influence on the effectiveness of the musical coaching. This is good news for dementia patients who don't have past training in singing or music. Singing lessons and other musical leisure activities may benefit non-musicians as much as other patients who, for example, were professional musicians earlier in life.
With regard to memory improvement, singing in particular was shown to boost critical brain abilities such as working memory, executive function, and orientation. These mental skills are important during social interactions, when solving problems, and functioning well in day-to-day activities.
Dr. Teppo Sarkamo, who led the study, points out such musical interventions could be a relatively simple way to help dementia patients in all settings preserve memory longer:
Our findings suggest that musical leisure activities could be easily applied and widely used in dementia care and rehabilitation. Especially stimulating and engaging activities, such as singing, seem to be very promising for maintaining memory functioning in the early stages of dementia.
Until a cure for Alzheimer's is discovered, alternative approaches such as singing lessons and other musical leisure activities will play an important role in management of dementia symptoms. If you or a loved one are affected by early-stage Alzheimer's, talk to your care provider about this study and whether singing-related activities might be helpful.
Reference:
Singing is beneficial for memory and mood especially in early dementia
http://www.j-alz.com/content/singing-beneficial-memory-and-mood-especially-early-dementia
3D Video Games Could Improve Your Memory Recall
More evidence is in that playing video games may strengthen the brain. Research at the University of California, Irvine has found 3D video games, in particular, provide a significant boost to memory.
Complex, big environments in games such as Super Mario 3D World (a game used in the study) stimulate the hippocampus, an important memory center in the brain, much the same way real environments do.
As reported by Dane Clemenson, a researcher in the study, "by playing video games that center around these complex 3D worlds, you're exercising the same processes that you would use to learn about real-world space."
Participants in the UC Irvine study were given cognitive and memory evaluations. Those who played 3D games experienced an improvement on memory tests of up to 12%. This is equivalent to the amount of memory function lost normally between the ages of 45 and 75.
"That's really the idea behind all this," explained Craig Stark, Professor of Neurobiology & Behavior, whose lab was used in the study. "As we're getting older, as our memory is getting worse, we could do something that would help keep that [memory] system in top form. And we think video games might be it."
Dr. Stark summarized the mechanism behind the memory-boosting effect of 3D video games this way: "If you do something like play big 3D video games, it gives your brain a lot of stuff to learn, and a lot of stuff to do, and a lot of stuff to think about. It's keeping your hippocampus in good shape."
If you've already established other memory-boosting habits such as regular social interaction, mindfulness meditation, cardio exercise, and the use of memory techniques, it might be time to add one more: playing your favorite 3D video game a few minutes each day.
It appears such games may not only provide fun entertainment, but a powerful boost to your memory as well.
Reference:
UC Irvine Youtube video about the study:
https://www.youtube.com/watch?v=t1YfgMVhhdA
Rosemary Scent May Help You Remember to Do Things
Do you often forget to take out the trash, return a friend's phone call, or go to your doctor's appointment? Try adding the scent of rosemary to your environment. It may help you remember to do such "future tasks."
Remembering to perform future tasks is the job of your prospective memory. According to research, the scent of rosemary essential oil can improve prospective memory. Rosemary is a fragrant herb with a pine-like aroma, and it's scent may help you remember to do things.
Scientists at the University of Northumbria in the UK found the scent of rosemary may help you "remember events and remember to complete tasks at particular times in the future."
Dr Mark Moss, a lead researcher in the study, said: "We wanted to build on our previous research that indicated rosemary aroma improved long-term memory and mental arithmetic.
"In this study we focused on prospective memory, which involves the ability to remember events that will occur in the future and to remember to complete tasks at particular times.
"This is critical for everyday functioning. For example when someone needs to remember to post [mail] a birthday card or to take medication at a particular time."
Participants in the study were separated into groups and given tasks requiring the use of their prospective memory. As researchers discovered, those in a rosemary-scented room performed measurably better on such tasks.
You can easily add the scent of rosemary to your own home using an ultrasonic aromatherapy diffuser. It is one of the safest ways to project the scent of an essential oil into a room.
An ultrasonic diffuser quietly vibrates an oil/water mixture into a fine mist in the room. It is much safer than heating the essential oil in an oil burner. (I own a 100ml Samyo ultrasonic diffuser
, pictured above.)
Small bottles of high grade essential oil are readily available for many common aromatic herbs, including rosemary, peppermint, basil, and lavender. Search online retailers such as Amazon or Walmart.com or at brick-and-mortar health food markets.
Be sure to select a brand that offers "therapeutic grade" rosemary essential oil, or you may wind up with a watered-down perfume instead.
If you have trouble with your prospective memory, experiment with the scent of rosemary oil in your home or workplace. You might find yourself more consistently remembering to perform future tasks.
References:
1. Moss, Oliver. "Plasma 1,8-cineole correlates with cognitive performance following exposure to rosemary essential oil aroma." Therapeutic Advances in Psychopharmacology June 2012 vol. 2 no. 3 103-113. doi: 10.1177/2045125312436573.
2. What Does Rosemary Do to Your Brain? July 15, 2015
http://www.bbc.com/news/magazine-33519453
3. British Psychological Society (BPS). "Rosemary aroma may help you remember to do things." ScienceDaily, 9 April 2013.
.
FREE Brain Games: TIME MANAGEMENT
There are 267 free online brain games on my website, Memory-Improvement-Tips.com. You can play them online anytime.
The games are free to play. No restrictions, no logging in. Just pick a game, go to the game page, and start playing.
Below are links to three of the online games that strengthen time management skills, an important brain ability. Time management means completing objectives by selecting and using the right resources under the pressure of time.
Play these free games now to give your brain a boost:
Epic Rail. This is Epic Rail, a game where you are traffic control director of the railroad. Your goal is to drop off the passengers from each train at the correct stations. Monitor the path of each train, and flip the track switches at just the right moment to guide the trains.
Deep Diver 2. Ready to pilot your own submarine? Hunt for underwater treasures like sunken chests of gold and jewels, rare valuable fish, and more. Complete dive missions to earn cash. Use your earnings to upgrade your sub, so you can dive deep and stay underwater longer.
Jane's Hotel. Rent rooms, serve food, and keep the rooms clean while managing your own hotel. In the beginning, your hotel is small and plain. Use your profits to upgrade amenities and services. That's a sure-fire way to please your guests.
---
That's all for now, and thanks for reading. For lots more tricks and strategies to improve your brain, visit the Get a Better Memory page on my website.
If you like the website, tell your friends and family about it. And please click the Facebook "Like" and Google +1 buttons on my site. Every vote of confidence helps.

Best regards,



Douglas Jobes
Author, Memory-Improvement-Tips.com
Home of over 250 free online brain games
Memory Tips newsletter Back Issues page: https://www.memory-improvement-tips.com/Free_Memory_Tips-backissues.html
If you found the page above interesting, fun, or useful, please click the "Like" and/or "Share" button below. Feel free to leave a comment as well. Thanks very much!