Free, Printable Sight Words List PDFs
Below are sight words list and flash card PDFs you can print and use for free. Included are the famous Dolch word lists for kindergarten (pre-primer and primer) through third grade.
"Sight words" are written words that you recognize immediately without sounding them out. Learning common sight words helps a new or slow reader to read much faster and with better comprehension.
If you are a teacher or parent, make sure your students and children know these lists! It will pay dividends for years to come by helping the children become more effective readers right from the beginning. Students learning English as a second language (ESL/EFL) can also benefit greatly by learning these lists.
I created these word lists as PDF files and flash card sets. Most are based on the Dolch sight words lists. Others I extracted from public domain sources such as the Top 1,000 Most Common Words in Contemporary Fiction, available on Wikipedia.
You have my permission to copy, print, and distribute these lists and flash cards for personal use or in the classroom, but you may not sell them. The lists of words themselves are out of copyright or have "open-share" copyright.
If you find these word lists useful, you might also like my printable math flash cards.
The Sight Words List PDFs & Flash Cards
Here are the word lists and flash cards. To view a list, click on the link to open the list as a PDF document. You can then print the list or save it to your computer.
Dolch Sight Words Lists
The lists of "service word" non-nouns first appeared in Dr. Edward Dolch's book, Problems in Reading, published in 1948. Service words include common verbs, adjectives, adverbs, articles, and prepositions. In addition to the non-noun lists, Dolch created a list of 95 nouns that beginning readers should learn on sight. According to Wikipedia, the original Dolch lists are now out of copyright.
Below is each Dolch sight words list formatted as a straight alphabetical listing.
Dolch Sight Words - Flash Cards
Below are the Dolch words organized as printable flash cards. To assemble the flash cards, first print out the pages. Cut out the cards, fold them in half, then glue the backs of each card together with a glue stick.
Note: Before printing the flash cards, set your printer to "Landscape" print mode.
Flash cards are an excellent review tool. Have your students flip through the stack of cards a few times each day. Their goal should be to recognize each word and say it out loud without having to sound the word out.
Other Sight Words Lists
The 100 Most Common Words in English is another sight words list you might find useful:
Use this list as a supplement to the Dolch lists.
Sight Words and Memory Improvement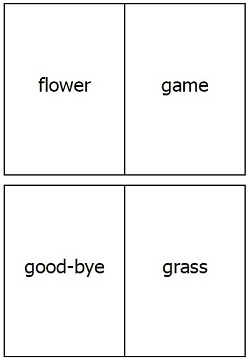 There are no memorization tricks for remembering the sight words, especially those that don't follow the usual phonetic patterns. Plain old rote memorization through repetition is the simplest way to learn them.
The flash card sets are useful aids for committing sight words to memory through repetition. Students who are learning the lists can quiz themselves by flipping through the stack one card at a time.
Or, a teacher, parent, or friend can hold the cards up for the student to read. Sight words the student has trouble with should be set aside for extra review.
Reading comprehension improves as more sight words are mastered. Students who don't know these words waste valuable time sounding them out as they read.
This time is better spent thinking about the meaning of the passage and memorizing the facts presented in the material.
More About Sight Words
As mentioned above, a "sight word" is any word that a reader recognizes visually and automatically, without sounding the word out. This is an important concept in reading education. It can have a slightly different meaning depending on the method of reading instruction being used.
Whole-Word Approach. Some students are taught to recognize the shape of each word. This was a common teaching method in the past. The goal was to make all words into sight words that the reader knew on sight.

The whole-word approach has fallen out of favor, however. One disadvantage of this method is the student has no way to "figure out" what new words are when they encounter them in reading material.

Phonics Approach. This approach teaches phonetic rules for sounding out words. Students learn the phonetic sounds of letter groups. Students who learn the rules can "sound out" new words that they haven't yet learned to recognize on sight. Phonics is regarded as an effective way to teach reading.
Unlike the whole-word approach, in phonics instruction the term "sight word" usually refers to words that do not follow standard phonetic rules. These words cannot be sounded out accurately.
For example, words such as "been", "none", "wear", and "head" do not follow phonetic standards.
To a student of phonics reading instruction, a sight words list is often a list of these non-standard words. These words must be learned by rote repetition until the student recognizes them "on sight". The Dolch lists include phonetic and non-phonetic words.
About These Sight Words Lists
The word lists and flash cards on this website are not intended to replace the sight word lists offered by professional reading instructors and/or companies. The lists here are provided as a supplemental resource for additional practice in learning commmon English sight words.
I imagine these lists being used by parents or teachers who would like their children or students to have extra practice learning these important words.
Every sight word is a common word that readers will certainly encounter often, in both written and spoken English. An early mastery of sight words can give any child or adult learner a significant head start as they learn to read the English language.
If you have suggestions for other types of word lists that I should include on this page, feel free to send me a message through my Contact Me page.
Published: 04/01/2008
Last Updated: 06/11/2020