Racehorse Tycoon - Free Online Horse Game
NOTE: This is an old Adobe Flash game. It no longer works.
Please visit the Free Online Brain Games page for the current online games.
Race Horse Tycoon is an online horse game that will test your strategic thinking and logic skills. Skillfully manage a thoroughbred racehorse and turn a profit if you can!
To begin, click the Small, Medium, or Large link under the picture of the game. This opens the horse game in a pop-up window.
In this free horse online game, you start with a budget to purchase a race horse, hire a jockey and trainer, and rent stables for the horse.
Online Horse Game - Instructions
Win, Place, or Show through 20 races and finish off the season with big winnings in the bank.
This is nothing serious about this light-hearted online horse game. It's just an enjoyable way to have fun while training important brain skills.
If you like this game, you might also enjoy the other free time management games on this site, such as Goodgame Empire and Penguin Diner.
HOW TO PLAY. After the Racehorse Tycoon game loads in a pop-up window, click the Play Game button on the game screen to get started. Load your saved game if you have one, or click the New Game button to start a new race season.
You begin this horse tycoon game with £40,000 (British pounds) of in-game cash as seed money. This is equivalent to about $60,000 USD.
Use this money to purchase a starter racehorse, supplies, and hire a trainer, jockey, etc. for your horse racing operation.
Clicking the New Game button displays the Pick Your Horse screen. This screen lists the race horses currently for sale.
Below I walk you through the steps of choosing a horse and getting ready to race.
Purchasing a Race Horse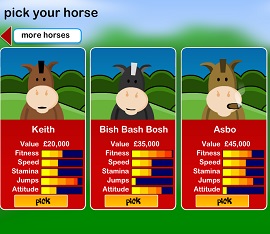 Pick Your Horse screen
There are 12 available race horses. Click the More Horses button on the Pick Your Horse to scroll the list of horses to the right.
You'll need to purchase one of the available horses in preparation for your first race. Later, assuming you win some races with your starter horse, you can return to the Pick Your Horse screen and buy a more expensive horse with more impressive skills.
To buy a horse, click the Pick button under the horse's picture. Then click the Confirm button to finalize the tranaction.
For example, the first time I played this online horse game I selected the horse Orkle as my starter horse. At just £11,000 he seemed a bargain.
Each race horse is rated on 5 skills: Fitness, Speed, Stamina, Jumps, and Attitude. Notice that, as you would expect, horses with better skills cost more.
The cheapest horse is Rooster Booster at a price of £8,000. The most expensive horse is Cat Food at a cost of £130,000.
As you complete races, your horse slowly loses skills. I assume that's because he's getting tired or something over the course of the race season.
From a practical standpoint, this means you'll need to upgrade your horse after several races. You'll want to invest in better horses anyway since races become more difficult as the season progresses.
As an example, I worked my way from Orkle to American Rocket and finally to Cat Food. Unfortunately, you can't sell a horse. So you won't get the money back you invested.
But obtaining a race horse is just the start of this online horse game. Let's next talk about what else you'll need.
Hiring a Jockey
A race horse isn't very useful without a rider, otherwise known as a jockey. Be sure to reserve some of your seed money to hire a qualified jockey to ride your mount.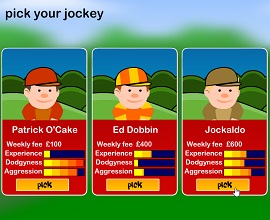 Pick Your Jockey screen
On confirming your horse purchase, the Pick Your Horse screen closes, and the Pick Your Jockey screen appears. Similar to the horse screen, you'll see a list of available jockeys you can hire.
There are 8 available jockeys. They charge by the week (by the race) for their services.
In this online horse game, jockeys are rated by experience, dodgyness, and aggression. I went with Jockaldo as my first jockey at £600 per week.
As your bankroll increases throughout the season, you'll want to consider firing your initial jockey and hiring someone with better skills. You'll win more races that way.
To hire a jockey, click the Pick button under the jockey's picture. Then click the Confirm button to finalize your choice.
Online Horse Game - Trainers
Even with a jockey, a race horse isn't worth much without training. Enter the trainer.
On confirming your jockey, the Pick Your Jockey screen closes and the Pick Your Trainer screen displays. As with horses and jockeys, you'll scroll through the choices.
Choose your trainer based on price as well as their skills. Trainer skills include Fitness, Speed, Stamina, Jumps, and Attitude.
I used Harry Cheese as Orkle's trainer. He worked out well for a starter trainer, only costin me £250 per race.
Food for Your Horse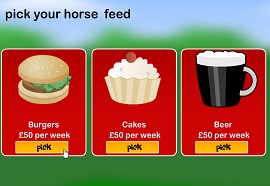 Pick Your Horse Feed screen
Your horse's diet has an impact on his performance. This online horse game treats horse food in a rather silly manner, however.
After selecting your trainer, the Pick Your Horse Feed screen appears. You'll quickly understand why I said silly, because the menu choices include Burgers, Cakes, Beer, or Cheese. Not exactly real horse fare.
For your horse feed selection, you'll need to randomly guess which food your horse might prefer. The prices are all the same, £50 per week.
You'll soon enough receive some feedback from the horse (pun intended). At the end of each race, your horse indicates whether he enjoyed the food or not.
Obviously you'll want to switch to a different food if you horse doesn't like the first type you selected. Not sure if this is always the case, but my horses tended to enjoy cake the best.
Rent Stables & Pick Transport
Your horse needs somewhere to live between races, so the Pick Your Stables screen appears after you finish selecting the horse feed.
The nicer stables cost more, of course. In the Racehorse Tycoon online horse game, prices range from £200 per week for the Ricketty Shack to £800 per week for the iStable.
As with the other resources in this game, upgrade your stables as you can as the bankroll grows.
Finally, you won't be riding the horse to the race track, so you'll want to rent a horse transport vehicle. The Pick Your Transport screen appears after you've selected a stable.
Your horse will comment on the vehicle you choose, so don't skimp here. Prices range from £200 per week for The Banger to £8000 per week for The Delux.
Ready to Race
Whew! That was a lot of preparation. But now you're ready to actually run a race.
After you select the transport vehicle, the Racehorse Tycoon Week: 1/20 screen displays. This screen shows a summary of your selections, including horse, jockey, trainer, horse feed, stables, and transport.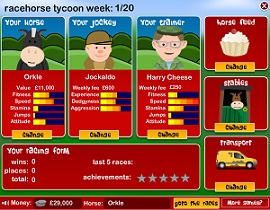 Your Racing Form
This screen also displays your Racing Form. This form shows your number of Wins (1st place) and Places (2nd place) throughout the season.
READY TO RACE? Then click the Go to the Races button. This button is located at the bottom of the Racehorse Tycoon Week: 1/20 screen.
Next displays the Choose Your Race screen. Each week, you'll have 3 races to choose from.
For your first few races in this online horse game, I'd recommend selecting a race with "Easy" difficulty. Click the name of the race, then the Continue button, to choose that race.
Now you're at the track, ready to go. Click the Start Race button to start racing.
Betting at the Track
Before the start of each race, you have the option to place bets. You can bet on any horse in the race, not just your own.
Click the Form Guide button on the Race Track screen to view each horse's past performance. At first, none of the horses has a track record, so consulting the Form Guide in the beginning isn't much help.
However, after each race the Form Guide is automatically updated with each horse's distance, place, prize, and condition for each race they have run. Use this information to place bets (optional).
To place a bet before a race, click the Place Bets Here button next to the track. Teh EzBookies representative will record your bet.
Make entries in the Your Bet and Your Horse boxes. The Win Pays box automatically displays how much you'll receive based on the odds for that horse.
Odds are displayed on the left of the EzBookies window. For example, suppose you see Orkle, 50.
This means odds are 50:1 against Orkle winning. If you bet on Orkle in this situation, and he does win, you'll be paid 50 times your bet.
Anyway, the betting mini-game is not real money, of course. It is also optional. You can just race the horses if you want.
Jockey Instructions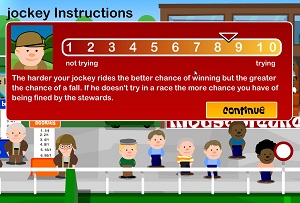 Set jockey level of "trying"
The final preparation step is to give your jockey some riding instruction. After you click Start Race, the Jockey Instructions window appears.
This screen has a slider measuring your jockey's aggressiveness during the race. Slide further to the ride to have your jockey push the horse harder during the race.
But be cautious about this. The harder the jockey tries, the more likely he'll fall off the horse at some point during the race.
After selecting your jockey's left of effort, click the Continue button. This starts the race!
Watch carefully to see how your horse performs. At the finish line, the Race Results screen displays showing your horse's place and winnings (if any).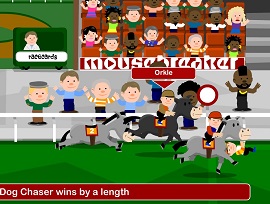 At the Finish Line
Afterward, you'll see a Trainers Report summarizing your horse's performance. The report shows place, prize money, betting winnings, and fees paid.
The Trainers Report also lists skills the horse improved on or decreased. Your horses feedback also appears on the report. Pay special attention to the horse's comments.
Click the Continue button on the Trainers Report to display the latest issue of "The Moon", a horse racing journal. News about your horse or other race participants graces the cover.
Sometimes you'll gain or lose money based on the news. For instance, my horse won a prize, "Sports Personality of the Year", for which he received £5000.
End of the Season
After 20 races are completed, the season ends. The My Racing Info sheet, which appears between each race, shows a tally of your winnings and losses.
At the end of my first racing season in this online horse game, my prize money was £488,138, my winnings from betting was £12,000, and my bills (expenses) were £74,550. For an over all profit of £425,588.


My winnings at the end of the race season
See if you can beat that!
Published: 10/07/2015
Last Updated: 06/11/2020