Memory Test - Free Online Brain Game
NOTE: This is an old Adobe Flash game. It no longer works.
Please visit the Free Online Brain Games page for the current online games.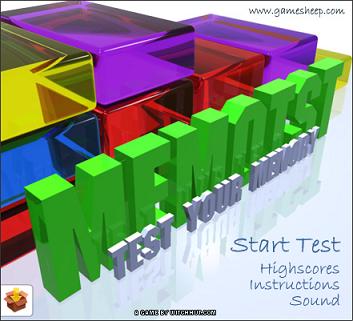 Memory Test trains short-term memory. Play this game a few minutes each day to improve your memory skills!
To begin, click the Small, Medium, or Large link under the picture at left. This opens the game in a pop-up window.
The objective of the memory test is to remember the color of every brick shown to you. The test starts off easy, but more colors are added with each level you complete.
Memory Test Instructions
Wait for the game to load, then click the "Start Test" button on the game screen.
If you like this game, you might also enjoy the other free memory games on this site, such as Eye Tester, and Trivial Pursuit.
HOW TO PLAY.  On each level, the color of a certain number of bricks will be shown for a short period of time. Try to remember the color of every brick when you are asked.
The order in which the colors appear does not correspond to the order in which you will be asked.
CONTROLS.  To paint an empty brick, click the bottle that has the color you want.
HINT: The faster you select a color, the more points you receive.
Published: 04/26/2009
Last Updated: 06/11/2020