Lumosity complaints
by Henry
(USA)
I was reading about Lumosity online brain training and found complaints related to subscription cancellation and customer service. Any input? Thanks.


NOTE: I no longer recommend Lumosity brain training. Unfortunately the Lumosity company has been plagued by numerous customer complaints. Worse yet, the U.S. Federal Trade Commission (FTC)
fined Lumosity
$2 million for deceptive practices.
I think Lumosity management is trying to turn the company around, but the scandals left a bad taste in my mouth.
Doug's Reply.
UPDATE (April 2016). Lumosity is no longer accredited by the Better Business Bureau. In February, Lumosity's BBB accreditation was revoked (voided) by the BBB Board of Directors.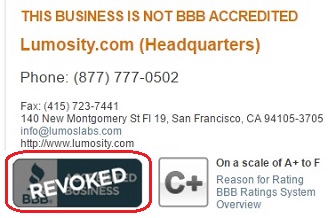 Lumosity's listing in the BBB database now includes this withering condemnation:
"On 02/16/2016 this company's accreditation in BBB was revoked by BBB's Board of Directors due to recent government action involving the business's customer relations which indicates a significant failure of the business to meet standards of conduct expected of a BBB member."
Lumosity should rightly be condemned for their history of deceptive billing and non-responsive customer service.
As the FTC found
, Lumosity also engaged in a pattern of secretly giving prizes in exchange for positive consumer testimonials. All of this is unacceptable.
With regard to the brain training itself, keep in mind the FTC judgement against them did not say their brain games DO NOT improve cognitive function; rather, Lumosity failed to prove their games DO what their marketing advertisements claimed.
Much research on cognitive training is underway, with conflicting opinions and disagreements among scientists regarding the extent and/or magnitude of its effectiveness.
UPDATE (Jan 2016). Based on the number of complaints I've heard about Lumosity customer service, I now hesitate to wholeheartedly recommend the Lumosity brain training service.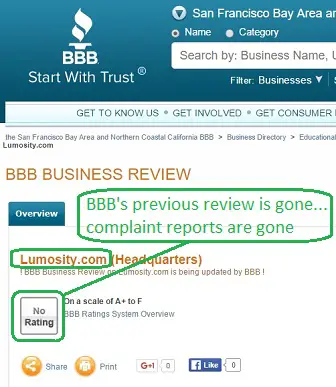 Lumosity's original BBB record was wiped
The brain games they've developed are advanced compared to others I've seen. I have enjoyed playing their games and believe doing so has boosted my
brain power
.
However, many users have complained of poor customer service from Lumosity. They've said they feel tricked into continued payments when they no longer want to use the Lumosity service.
Others claim it is very difficult to contact a Lumosity representative, whether by phone, email, or webform.
Also, in
my original review, I noted that Lumosity had an "A" rating with the U.S. Better Business Bureau (BBB). However, I now see Lumosity's earlier BBB record has been deleted (see screen image above).
I suspect the BBB, perhaps having received numerous complaints about Lumosity customer service, wiped their original Lumosity review and list of customer complaints from their system. I don't know this for sure, but deleting the BBB record does not build confidence.
On the plus side, it does appear Lumosity is making attempts to update the
Help Center
on their website. I see new help articles posted recently.
How to Cancel Lumosity Auto-Renewal
Many complaints have been in reference to unwanted automatic renewal charges. To prevent your credit card from being automatically charged each year, Lumosity says to follow the steps on their
Will I Be Charged?
page.
To recap, I no longer recommend the Lumosity service. I might be willing to change my mind about this if they straighten out their act.
Note: I personally no longer maintain a paid Lumosity subscription.
Best regards,
Douglas
Memory-Improvement-Tips.com
This is information only. It is
not medical advice
, diagnosis, or treatment.
-- Following was my original evaluation of Lumosity, which has changed, per above --
Any such problems most likely affect only a small minority of Lumosity users.
I have been using Lumosity myself and promoting it on my website for three years. In that time, I have never had a problem with my personal account. None of my visitors have reported any problems to me that I can recall.
For some objective data, take a look at Lumosity.com's Better Business Bureau (BBB) record.
Lumosity has an
"A" rating
from the BBB, almost the highest rating a business can have (only A+ is higher). Lumosity also enjoys "BBB Accredited" status.
According to the BBB record, in the last four years there have been only 37 complaints filed against them, out of millions of Lumosity users. About 10 complaints a year - and all the complaints were resolved.
In my experience Lumosity is a good, solid company. I wouldn't let some negative reviews stop you from trying it.
Douglas
---