Free Coupon: 30% OFF Online Brain Training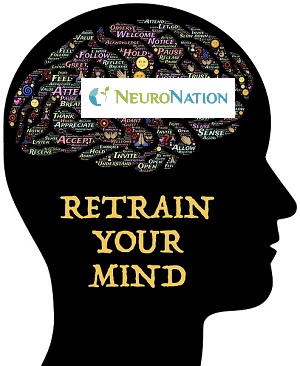 Train Your Brain Online
Looking for ways to keep your mind sharp? Then train your brain with NeuroNation online.
I believe in the effectiveness of this type of mind training, and I use their online brain games program myself every day.
A primary goal of brain games training is to boost your memory, concentration, math ability, perception, and other brain skills. NeuroNation's scientists have designed games with names like Focus Master, Color Craze, and MemoFlow to help sharpen your brain power.
(Already know you want the brain training? Click here to go straight to the 30% discount page. All subscriptions include a 14-day money-back guarantee.)
Another goal of training is to protect your brain against cognitive decline and diseases like Alzheimer's dementia. A study involving 3,000 seniors concluded that brain training may lower a person's risk of dementia by 48%!
Researchers found that older adults who did exercises to shore up the speed at which they processed visual information could cut by nearly half their likelihood of cognitive decline or dementia over a 10-year period.
Online scientific games that train visual processing are included with all NeuroNation subscriptions. Boosting your odds of avoiding dementia justifies brain training right there.
NeuroNation is a German brain training company. They were named one of Google's "Best Apps of 2015", with 4.5 of 5 stars on over 200,000 reviews and 10 million members worldwide. You don't want to miss out.
Now they've launched a desktop version of the training. This is great, because it lets you get a mental workout on a big screen.
Online brain training helps to keep your mind challenged, especially when you are short on time. A premium subscription, which this coupon is good for, unlocks all the features.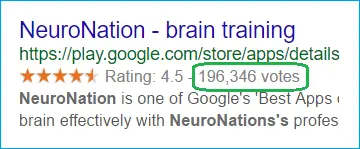 Now Available on Desktop
(coupon below)
By special arrangement with them, I'm able to give you a 30% off coupon for their premium subscription. I'm excited to bring this savings to you.
This includes over 50 brain games, progress tracking, strength & weakness analysis, score comparisons by age group, and more. You play these games right in your browser.
Why exercise your brain? Keeping your brain challenged is important if you want to head off Alzheimer's disease and cognitive decline. It can also help you perform at your best mentally, whether at school, at your job, and in everyday life.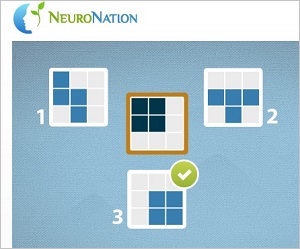 Rotator - Just One of 50+ Scientific Brain Games
Your brain grows when it is challenged by difficult tasks. You can stretch your mind in many ways, from taking up a new hobby, being socially active, and practicing meditation, to educational activities like pursuing a college degree.
However, most of those are fairly time-consuming. Online brain training is perfect for times during the day when you have just a few minutes available.
Rather than checking email or Facebook for the millionth time, jump on NeuroNation and complete a challenging brain game. Push your Brain Score higher and higher!
Because the level of difficulty adapts to your progress, the games never become too easy. Designed in consultation with European scientists, their brain games offer a powerful balance between challenge and fun.
What You Get with NeuroNation Brain Training
A paid premium subscription to NeuroNation opens a large collection of scientifically designed brain training games you can play in your browser. With a subscription, you unlock:
Over 50 scientific brain training games, covering memory, math, language, perception, and reasoning

Comparison statistics by age - see how you compare to other people in your age group

Focus Master - Trains Concentration

Personalized training - exercises adapt to your performance and goals

Strength and weakness analysis - target your weak points

Progress graph and training overview

Advanced Training Courses (additional purchase required)

Challenge family & friends - add other NeuroNation users as Friends in the program
After purchasing a subscription, it takes only a few minutes to set up your account and get started. To claim your discount, click the coupon below to visit a special discount page on the NeuroNation website.
On that page, click the "Get 30% Off Your Subscription" button. This opens the Select a Package page where you can purchase your discounted subscription directly.
There are several subscriptions available, from 3-months to lifetime. The 12-month option is the most popular, and it works out to about $4.90 per month with the discount.
All subscriptions include a 14-day money-back guarantee.
Great Question: Does Brain Training Actually Work?
Brain training has gotten a lot of negative press. This is partly due to some companies exaggerating the benefits of using their games.
Is brain training certain to make you smarter, improve your memory, or protect you from memory loss? Scientists do not all agree, and new studies are being done all the time. But there isn't much downside to training your brain, and the potential is there for it to be of real benefit.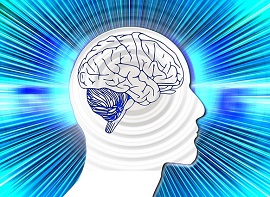 The Power of Brain Training
I can show you a long list of scientists who say brain games only make you better at playing the games. On the other hand, I can show you another long list of respected scientists who say there are cognitive benefits to brain training, or at least that it's an open question.
A lot more research is needed on cognitive training. Probably many years of independent, peer-reviewed, randomized, controlled studies.
But I think much of this debate kind of misses the point. Online brain training doesn't hurt and isn't that expensive, and it just might make my brain stronger. So I'm going to keep doing it.
I find NeuroNation's games, and other scientific brain games, quite challenging. Playing these games has got to be better for my brain than watching yet another mindless TV show or checking the news yet again.
Professor Michael Valenzuela researches cognitive impairment in the elderly at the Brain & Mind Research Institute in Sydney. He explains it this way:
Given the negligible potential for harm, it is sensible to encourage all individuals to increase their levels of complex, enjoyable, and engaging cognitive activity for optimal brain health, particularly after retirement.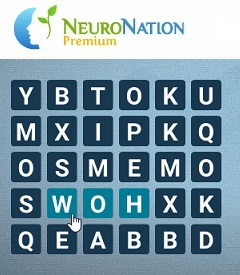 Word Detective game
I've played a ton of these games, and I personally think they've made my brain sharper. You cannot argue that they don't test your mental abilities. The fact that NeuroNation's games become more difficult as you get better at them is a key point.
Dr. Michael Falkenstein is one of NeuroNation's scientific consultants. He is an author on over 200 publications related to aging and the brain. Dr. Falkenstein says:
Cognitive training - on a regular basis - can improve a number of important mental functions. Improved mental functioning goes hand in hand with enhancements in many areas of our everyday life.
Certainly, take up a new hobby, be social, and do the other things. But it might be smart to round out those activities with online brain training as well. After all, it's easy to fit brain games training into free moments during your day. That's what I do.
I have no idea how much longer the 30% discount offer will last, by the way. That's up to NeuroNation. So consider taking advantage of it while it's still available. Here's the link to the discount page again: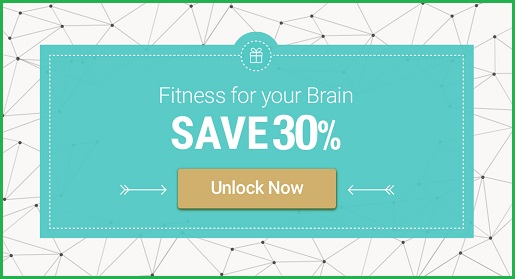 Go to the NeuroNation Premium 30% OFF Discount Page
Disclosure: I've partnered with NeuroNation to bring their brain training program to you at a significant discount. When you purchase a subscription, a portion goes toward supporting my website, Memory-Improvement-Tips.com.
I use the premium version myself on a daily basis. I'm excited that I can bring you the premium version with all games and features at a 30% off discount.
We all need to engage our brains more every day, and NeuroNation's adaptive, scientifically designed games can help you do just that.
Wishing you the best of health in body and mind,



Author, Memory-Improvement-Tips.com
[+] Cognitive Training References & Sources
If you found the page above interesting, fun, or useful, please click the "Like" and/or "+1" buttons below. Feel free to leave a comment as well. Thanks very much!