Linking Puzzles - Free Online Brain Game
The game below is no longer available. You might enjoy the other similar puzzle games here on my site, such as In and Out Game and Liquid Measure.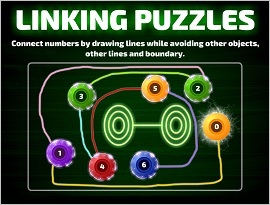 This online Linking Puzzles game will challenge your spatial orientation and concentration skills.
Connect the circles in numerical order. But you can't touch your own lines or any of the obstacles!
To begin, click the Small, Medium, or Large link under the picture of the game. This opens the game in a pop-up window.
Linking Puzzle Game - Instructions
If you like this game, you might enjoy the other free online puzzle games on this site, such as the Cargo Bridge game.
HOW TO PLAY. This game includes 24 levels of number linking puzzles. The object of each level is to connect the numbered circles, starting with 0, then 1, 2, and so on.
After the game loads, click the START button. This opens the Select a Level screen.
You must start with Level 1. Higher levels are locked until you successfully solve the lower levels. Click Level 1 to begin.
A brief tutorial screen displays next. This is also the screen where you start playing. Click the "0" circle on this screen to begin Level 1.
To draw your lines, first click the "0" circle. Then hold down the left mouse button and drag a line from the "0" circle to the "1" circle.
Repeat the same steps, drawing a line from the "1" circle to the "2" circle and so on.
If you successfully complete the level, the Level Up screen displays next. This screen shows your level score, bonus score, and total score.
This will take some planning and concentration, however. You're not allowed to cross the lines you create or draw lines across any of the obstacles.
GAME OPTIONS. If you decide you want to remove the line you've just drawn, click the Undo button. This button looks like a right-turning arrow, in the lower right of the screen.
You can also mute the background music and sounds by clicking the musical note button and speaker button in the lower right. To return to the main menu, click the menu button also in the lower right.
These number linking challenges remind me of mazes, in a way. Except you have to find your way through the maze without seeing any walls.
See if you can complete all 24 levels!
Published: 07/02/2016
Last Updated: 06/11/2020