Inca Ball - Free Brain Game
This free brain game trains concentration, visual perception, and logical reasoning.
Clear the Inca balls from the screen by getting three or more of the same color in a row.
To begin, click the Small, Medium, or Large link under the picture at left. This opens the game in a pop-up window.
Inca Ball Instructions
After the game loads, click the "NEXT LEVEL" button in the lower right to begin.
If you like this game, you might also enjoy the Math Lines game which follows similar rules.
HOW TO PLAY.  Move the ball pad at the bottom of the game left-to-right with your mouse.
Left click to shoot a ball. Scroll or left-click the ball below to swap the ball.
Note: Click the "NEXT LEVEL" button in the lower right as needed to proceed through levels.
After a few levels you may be asked to download the game to your computer. You can keep playing online for free by clicking the "CONTINUE" button."
Catch bonuses as they fall to use their power.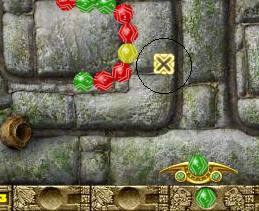 Bonuses include:
1. Slow - causes the line of balls to slow down
2. Stop - causes the line of balls to stop moving (example at left)
3. Multiball - can be used as any color
4. Reverse - causes the line of balls to move backwards
The Statistics page displays after you complete a level. It shows number of balls eliminated, chains, and combos, as well as your level time and score.
Clear all the colored balls on the screen by shooting like-colored balls to form three-in-a-row (or more). Don't let the line of balls reach the skull!
Published: 08/30/2010
Last Updated: 06/11/2020
Game distributed by GamesDitch.com. Used with Permission.
If you found the page above interesting, fun, or useful, please click the "Like" and/or "Share" button below. Feel free to leave a comment as well. Thanks very much!