This Is The Only Level: Quick Online Game
NOTE: This is an old Adobe Flash game. It no longer works.
Please visit the Free Online Brain Games page for the current online games.
Here's a quick online game that's lots of fun. "This Is The Only Level" is the name of the game.
Finish this free game in 15 minutes or less, if you can. It's a challenge!
To begin, click the Small, Medium, or Large link under the picture of the game. This opens the game in a pop-up window.
Quick Online Game - Instructions
If you like this game, you might enjoy the other free puzzle games on this site, such as Jewel Quest.
HOW TO PLAY. After the game loads, click the Play button on the game screen. When the main screen displays, click the "Play or Continue Level One" button to begin.
Yes, believe it or not, there is only 1 level to this quick puzzle game. But this one level has 30 stages you need to complete.
Your goal is to move your elephant character from the starting point on the left side of the level to the exit on the right. But every time you complete a stage, the rules change although the level itself does not.
For example, in Stage One, the arrow keys are used to move the elephant. On another level, you have to use the mouse.
Sometime the arrow directions change; sometimes the gravity of the stage is altered. A different puzzle for you to solve every time.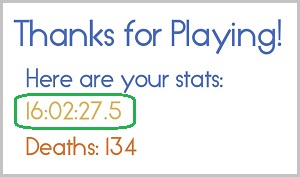 My Stats - All 30 Stages Complete
Look for a hint in the lower left of the game at each stage. That's your clue for how to solve the level that time around.
Just because this is a quick game doesn't mean it is easy. I was able to complete all 30 stages without looking at the walkthroughs, but some of the stages had me puzzled until I finally figured out what to do.
In addition to figuring out the trick for each stage, you need to avoid the sharp spiked hazards on the screen. This can sometimes be a challenge depending on the rules for that stage.
I finished this quick online game in about 16 minutes. See if you can beat that!
"This Is The Only Level" is fast to play, but it really is a thinking game. Puzzle games like this one train brain skills such as problem solving, thinking speed, and mental flexibility.
Published: 05/21/2017
Last Updated: 06/11/2020