Sokoban Puzzle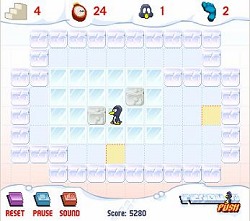 This Penguin Push sokoban puzzle trains visualization, pattern recognition, and logical deduction. Push the ice blocks into the available holes, but don't get stuck in a corner!
To begin, click the Small, Medium, or Large link, or HTML5/Mobile link under the picture of the game. This opens the game in a pop-up window.
Note: The HTML5/Mobile version Sokoban is an HTML5 game. It does not require the Adobe Flash Player. It is a similar game by a different game developer.
Penguin Push Instructions
If you like this game, you might also enjoy Penguin Diner 2 and the Sokoban Puzzle page.
HOW TO PLAY. Use the Arrow keys to guide your penguin. The object is to "push" all the moveable blocks into the available holes in the ice.
Games like Penguin Push are in the category of "transport" games. The most famous of these is Sokoban.
This game requires strategic planning, but don't take too long - you are on a timer.
The idea is to complete each level as quickly as possible and in as few steps as possible. Have fun!
Published: 01/26/2010
Last Updated: 06/11/2020