Mini Train Game - Play Free Online
NOTE: This is an old Adobe Flash game. It no longer works.
Please visit the Free Online Brain Games page for the current online games.
This fun Mini Train game is a great way to exercise your brain. This game includes 24 levels of puzzles.
To begin, click the Small, Medium, or Large link under the picture of the game. This opens the train game in a new window.
The train tracks are broken! Repair them using the available shapes, then run the train to the tunnel.
Mini Train Game - Instructions
Block games like Mini Train exercise important brain skills such as visual perception and spatial orientation.
If you like this game, you might also enjoy Epic Rail.
HOW TO PLAY. The object of this game is to repair the train tracks, so the mini train can enter the tunnel.
Repairing tracks isn't difficult. The challenge is deciding where to place the available shapes to create a smooth track.
After the game opens in the pop-up window, click the START button on the engine to begin. Then click the Level 1 image to get started.
This game includes 24 levels of free mini train challenges. You need to unlock each level as you go, before the next level becomes available.
This is not a stressful game. If you fail a level, simply restart it and try again.
The controls are simple. Use your mouse to grab and lift the available shapes and move them around.
You'll notice the track has various gaps. Fill in the broken gaps with the shapes to make the track smooth.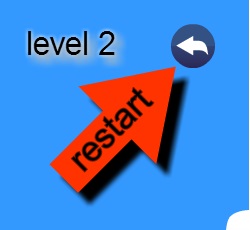 Restart Level button
To rotate shapes, you'll often need to drag them along the ground to get them to spin the way you want.
Once you've repaired the track, it's time to test whether the mini train can smoothly traverse the tracks! Click the Play button (looks like a triangle) to start the train rolling and watch the action.
You can zoom in or out by clicking the + or - button on the game screen. To scroll sideways through the scene, simply move your mouse toward the edge of the picture.
The Mini Train game automatically plays an energetic theme song in the background. You can mute the sound or lower the volume by clicking the Speaker icon in the upper left of the game window.
This game seems very easy at first, and it is. But work your way through the levels, and you might just find this a real challenge for your brain. Have fun!
Published: 05/11/2016
Last Updated: 06/11/2020