Girl with Memory Problems
I just found this site today and am so thankful for it! I have had memory problems since I was born, and this year have just began learning how to use mnemonics, which have helped me retain information.


This site is an encouragement! I will be using it to help me on my memory journey.
Thank you so much!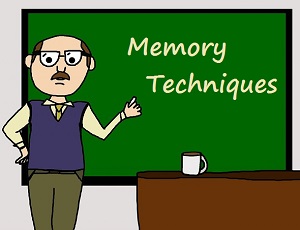 Why Aren't Memory Skills Taught in Schools?
Doug's Reply.
You're welcome, and I know just how you feel.
Growing up I always had trouble memorizing my schoolwork. At least, it seemed other students had an easier time remembering their assignments than I did.
How crazy it is that most schools do not offer classes in memory techniques!
My theory about that is the teachers (or at least the administrators) have naturally good memories, so they can't comprehend that the rest of us don't have perfect memories like they do.
Probably they think we're just "lazy" and don't feel like putting in the effort to study. How wrong they are!
My site is large, over 500 pages, so I hope you can find the information you need. To find your way around, use the Search feature and navigate using the buttons along the top and the left.
I recommend you start on the
Get a Better Memory
page. What you'll find there is an explanation of the two kinds of
memory you need to work on.
First, there's your Natural memory, and second there's your Trained memory. This division of memory was recognized 2,000 years ago by the ancient Romans and Greeks, so I didn't make that up.

With Natural memory, the idea is to build up the health of your brain. That way you can boost whatever natural memory ability you were born with.
Ways to improve your inborn memory include eating a better diet (including more
brain foods
), taking vitamins, exercising, getting enough sleep, and playing
brain games
.

Don't ignore my advice to meditate. Numerous studies indicate that
mindfulness meditation
rewires your brain, strengthening both memory and attention.
At the same time, boost your Trained memory by using
Study Skills
and
memory systems
along with
mnemonic tricks
.
I encourage you to really try to understand the
image-based
memory systems, including the
substitute word
technique, link, peg, and other systems. Most people only use their left brain for remembering (think: rote memorization), but through the image-based systems you can actually use both sides of your brain to double your memory strength!
Best of luck, and if there's anything you need just send me a message through my
Contact Me
page.
Regards,
Douglas
Memory-Improvement-Tips.com
This is information only. It is
not medical advice
, diagnosis, or treatment.