Free Printable World Map
These free printable world map pages are a useful way to learn the political boundaries of the countries around the world. Print these out and try to fill in as many country names as you can from memory.
These maps are excellent tools for students of geography or anyone who wants to become more knowledgeable about the globe.
The maps are in "PDF" format, which makes them easy to view and print on any browser.
To view and print the PDF maps, you need the a PDF Reader installed on your computer. If you do not already have the a PDF reader, you can download a free copy from Adobe.com or other locations on the web.
PERMISSIONS. You have my permission to print out, copy, and distribute the free printable world maps to anyone as long as the copyright notice at the bottom of the page stays in place.
You can email the PDF file to anyone, or put it on your blog, website, etc. without restriction.
List of World Maps to Print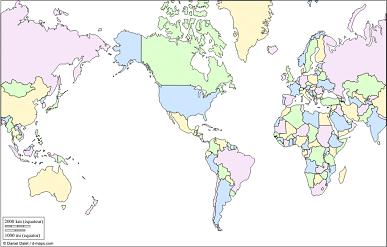 Here are the world maps available for printing. There are four versions, including maps showing political boundaries and printable blank world maps.
Here are some continent maps to go with the free printable world maps. The continent maps make it much easier to see the location and size of smaller countries.
You can print the maps by clicking the Printer icon at the top of the PDF page. This opens a Print window where you can set print options such as number of copies and so on.
How to Fill in the Maps
As a memory improvement exercise, fill in the country names on these maps. Print out several copies so you have plenty of maps to practice on.
There are many sources for finding the country names, but here's an idea:
Manually look up country maps in a physical atlas or online, and study the locations of the countries.

When you think you know the countries well, write as many of the names as you can on your print outs from memory.
These free printable world maps were obtained from d-maps.com and are used with permission.
Published: 04/29/2010
Last Updated: 06/11/2020