Speed Cards - Free Concentration Game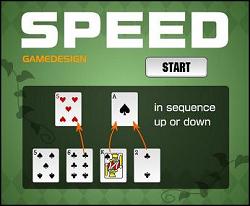 In this free concentration game, get rid of cards fast. Speed Cards trains visual perception, attention span, and reaction time.
To begin, click the Small, Medium, or Large link, or the HTML5/Mobile link under the picture of the game. This opens the game in a pop-up window.
Note: The HTML5/Mobile version is an HTML5 game with a Multiplayer option. It does not require the Adobe Flash Player. It is the same type of game by a different game developer.
Speed Cards Instructions
You're going head-to-head against the computer. Be the first to get rid of your cards to win the round and advance to the next level.
If you like this game, you might also enjoy the Shell Game which also trains concentration.
HOW TO PLAY.  Discard your cards into the two piles in the middle.
You can get rid of a card if its value is *one more* or *one less* than either of the cards in the middle piles.
For example, suppose there is an 8 of Spades showing in one of the middle piles and you have a 9 of Clubs.
Since your 9 of Clubs is one more than the 8 of Spades, you can move your 9 of Clubs card on top of the 8 of Spades card (by clicking on your card).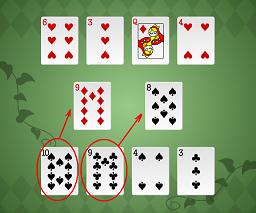 Speed Cards Example
Similarly, a 10 of Spades can be moved onto a 9 of Diamonds, as shown in the screen image at left.
The first side to get rid of all their cards first wins. Each level, the computer gets faster at discarding its cards.
This free concentration game really forces you to focus on the cards in your hand as well as the values of the cards in the middle.
See what level you can get to! Think quickly or be eliminated.
Published: 08/30/2010
Last Updated: 06/11/2020
Flash version distributed by y3.com. The HTML5 version is by JD Software. Used with Permission.