Collapse Insanity - Free Collapse Game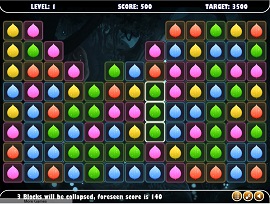 Collapse Insanity is a free collapse game you can play online anytime. Score points by merging like-colored blocks scattered throughout the grid.
Beat the goal for each level to keep advancing. Try for a high score!
To begin, click the Small, Medium, or Large link under the picture at left. This opens the game in a pop-up window.
Instructions - Free Collapse Game
This brain game trains visual perception and logical thinking skills.
If you like this game, you might also enjoy the other free puzzle games on this site, such as 3D Logic, Bloxorz, and Candy Crush Speed Challenge.
HOW TO PLAY. Wait for the game to load in the pop-up window. Click the START button at the bottom of the Collapse Insanity splash screen.
Note: A large advertisement sometimes displays in the pop-up window when you load the game. That's the game developer's ad, not mine.
Look for a small "Skip" link under the ad you can click to close the ad. Ads can be annoying, but they support the development of more games, so they serve a purpose.
The instructions page opens next. Click the START button in the lower right to go to the game. I've reproduced the instructions here for your convenience:
"Collapse Insanity is a block-removing board game. Collapse the blocks by clicking the groups of horizontally or vertically connected same-type cakes.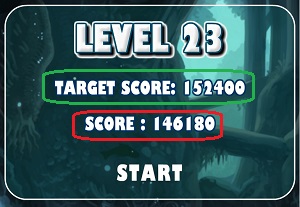 Level screen appears between levels
"On each collapse, you will get a score. The bigger the group you collapse, the higher the score you will get.
"Bottom status shows you the projected score for the selected group. Use logic to create bigger groups.
"Your progress is saved. So feel free to play it again and again to earn more score."
The Level screen appears next. This displays your Target Score and current Score.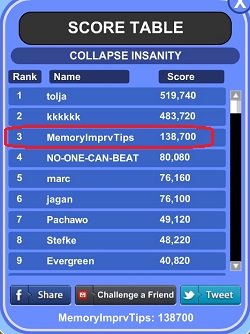 That's me! Third Place (for now)

Click the START button on the Level screen to start playing the game. There's no time limit, so consider your strategy carefully.
To remove blocks, click matches of two colors or more. Click the matching blocks with your mouse to remove them from the board.
As you remove combos of colored blocks, sections of the stack fall down lower. In Collapse Insanity, it's not necessary to entirely clear all blocks. You just need to beat the Target score.
When an entire column is removed, the remaining blocks on the games screen slide sideways, automatically filling the gap.
At the end of the game, the Leaderboard displays. If you've earned a high enough score, type in your name and click the SUBMIT button.
Then you'll be famous!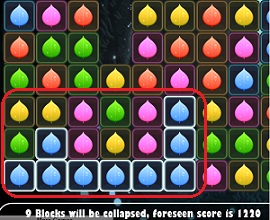 Big combos earn bigger points
PROGRESSING THROUGH LEVELS. It's tempting in this free collapse game to just click whatever color matches you happen to see. However, you won't get very far with that strategy.
To progress through levels, you need to beat the Target score for each level. A bunch of two and three block matches isn't going to generate enough points to get you past the first few levels of this game.
Higher-number combos are worth a lot more per block than the two and three-of-a kind.
Let's compare. A two-of-a-kind is worth 60 points. That's only 30 points per block.
In contrast, a four-of-a-kind is worth 240 points - that's 60 points per block. And a nine-of-a-kind is worth 1,220 points - that's 135 points per block.
This game doesn't have a clock, so take your time. Think a few steps ahead, with the goal to set up four-of-a-kinds, five-of-a-kinds, or higher.
OPTIONS. There are three round option buttons in the lower right of the game. Clicking the first option button restarts the level. The other two are for muting game music and sound effects.
Unfortunately, Collapse Insanity's two mute buttons don't seem to work (at least not on my computer). The good news is, like with all flash games, it's still possible to mute this game if you want to play internet radio or listen to your own music on your computer.
Puzzle games like this free collapse game train important brain skills like visual perception and logical thinking. Play free online games like this often to keep your brain sharp.
Published: 03/05/2016
Last Updated: 06/11/2020