Daily Chess Puzzle - Free Online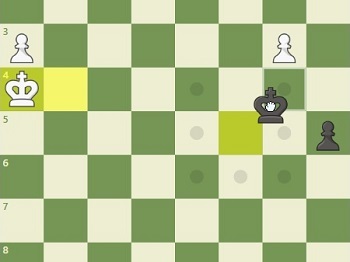 Here's a daily chess puzzle that's sure to help you build your ability to focus and concentrate.
To begin, click the Solve button under the picture of the game. This opens the game in a pop-up window.
The chess board displays a game in progress. Your goal is to decide the best move for White or Black.
Not only are chess puzzles fun, they provide you with a quick, intense brain workout.
Daily Chess Puzzle Instructions
Click and hold down the left mouse button on the piece you want to move. Drag the piece to the desired location.
If you like this chess puzzle, you might also enjoy my Flash Chess 3D and Easy Chess pages.
Note: The instructions below are for the old Adobe Flash version of the game.
HOW TO PLAY. Look just below the board for the goal of today's chess puzzle. For example, it may say "Find the best move for black."
How to Play Chess. Don't know how to play chess? Watch the video below, "Learn to Play Chess in 12 Minutes." It's a quick introduction to the rules.
(At the end of the video is a link to another video by the same YouTuber that explains 24 tactics and strategies for winning at chess.)
To move a piece, drag it across the board with the mouse. To change the difficulty if the puzzle, click the Easy, Medium, or Hard button.
If you choose a non-ideal move for white, the message "Wrong answer! Try again." appears. If you can't figure out the puzzle, click the Hint button for a clue.
Here's a little history of chess from Wikipedia: Chess is a recreational and competitive game for two players. It is derived from Persian shah ("the King"), an abbreviation of Shâh-mât (Checkmate).
Sometimes called Western or International to distinguish it from its predecessors and other variants, the current form of chess emerged in Southern Europe during the second half of the 15th century after evolving from similar, much older games of Indian origin.
Chess is a timeless game that is not only fun but trains your brain at the same time.
Note: I recently replaced the original ShredderChess daily puzzle with this new GameKnot daily puzzle above. The ShredderChess version had stopped working.
Published: 08/10/2010
Last Updated: 07/12/2022