TBI in 2005
by Marty
(Lexington, Kentucky, USA)
I galloped horses for 31 yrs and I loved it! It has been over 5 yrs, and I'm only about 40% of what I was. Now I am depressed and don't know what to do. Social Security and kemi aren't enough to pay the bills, and I would give anything to be normal again. Get back to the race track and tell them to keep their money.


Doug's Reply.
I don't know if your traumatic brain injury (TBI) occurred when you were riding a horse. But your story reminds me of Christopher Reeve's own experience.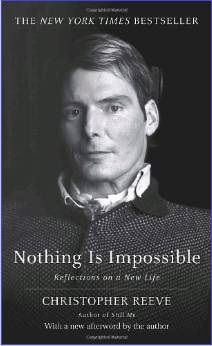 Remember him? Reeve played the character "Superman" in the movies
Superman I, II, III,
and
IV
. As you may know, he became a quadriplegic in 1995 when he was thrown from his horse during an equestrian competition.
While Reeve did not suffer a TBI, his sudden quadriplegia (inability to move his arms or legs) was obviously a stunning blow. However, he somehow kept a positive attitude throughout his ordeal and until the end of his life.
In 2002, Reeve published the book
Nothing is Impossible: Reflections on a New Life
in which he claims all of us are capable of overcoming even the greatest obstacles.
If you are able, I'd suggest you read Reeve's book. In fact, actively seek out books and stories about as many individuals as you can who have endured very difficult times (especially physical and mental incapacitation) yet who retained their excitement for living.
I think you will find consolation in their words and encouragement about the future. While you might not ever regain your former abilities, the important thing is to make the best of the life you do have.
Tragedy can strike anyone, at any time. When the worst happens, it is critical to gain perspective through the experiences of others. Then, look for ways to help other people benefit and learn from your experience, as Reeve did.
If you can help other people, perhaps by providing encouragement to other TBI sufferers, you may begin to find your depression lifted and your outlook on life improved.
Thanks so much for sharing your story. I will keep you in my thoughts and prayers.
Best regards,
Douglas
Memory-Improvement-Tips.com
This is information only. It is
not medical advice
, diagnosis, or treatment.