SBI! Review: How I Used Solo Build It! to Start a Successful Web-Based Business
I wrote this SBI! review to help you reach your dreams. I do not receive any compensation from SBI! if you choose to use their software to start a web-based business.
For the last 10 years, I have run a home-based web business. This business provides a good income and has replaced the need for me to have a regular job.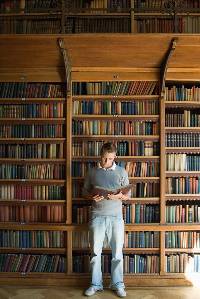 I am my own boss now. I am making a living doing what I love. You can imagine the freedom and sense of fulfillment this brings.
The business is centered around my website Memory-Improvement-Tips.com. I built this business using Solo Build It! (SBI!) online software.
Through this business, I reach over 3,000,000 people every year, helping them learn more about their memory and brain power, and how to improve it. That's over 10,000 people a day.
I believe anyone with a willingness to learn, a can-do attitude, and strong motivation can use SBI! to do the same. This could be you. This SBI! review may be your wake-up call.
If you dream of starting a web business, I strongly recommend you consider SBI!s suite of business-building software. SBI! has the tools you need to succeed.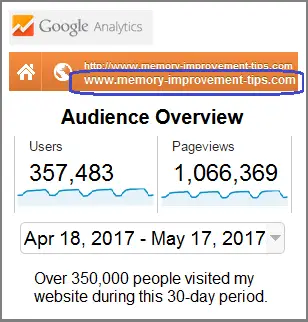 Nowadays many advertised products lead you to believe they can help you build a website that gets visited. They make big claims, but mostly they don't work. (See below for a specific example.)
I have never bothered with any of them. It would be a waste of my time.
You may also come across negative SBI! reviews. Do not pay any attention to them. If I had, I would still be slaving away at my former day job.
SBI! works. That I know, from experience. Although there are copycats that don't deliver, there is nothing else like it for building your own online business.
SBI!, which is developed by a company called SiteSell, has all the tools in one. Their online software is subscription based (about $30 per month). There are no upsells - the $30 includes all the tools, and all updates are free.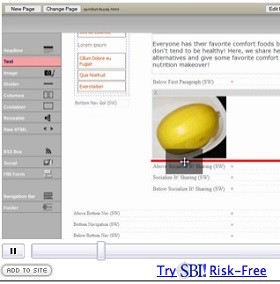 SBI's Block Builder software
To help you find your way from start to finish, SBI! provides a 10-step Action Guide that walks you through the process of creating your web-based business. PRO TIP: How diligently you follow that guide will be a key factor in the success of your online business.
The suite of online tools included with an SBI! subscription covers everything needed to start and run a web-based business. From brain storming possible topics for your business, to analyzing supply and demand keywords, to social media, to the actual building of your website - it's all included and the best tools you'll find anywhere.
I've decided to not go into a long description of the many tools included with an SBI! subscription here in my SBI! review. Rather, I'll point you to a page on their site where you can read all about them: Solo Build It! Tools.
Instead, I here want to emphasize the importance of having the courage to follow your dreams. Think about it: if you never begin, it will never happen.
Pursue Your Dream: It Might Just Come True
If you have the dream of starting a web-based business, I encourage you to follow that dream. Even if you're not sure how it will all work out, just begin. Go for it!
Here is proof of the power of such dreams. In June 1994 I dropped out of dental school. Years of career planning in ruins, I no longer knew what direction my life should go. I had to start over.
Having no pre-defined path, I decided to list the characteristics of my "idea" job. I typed it up. I still have the print out. The list includes: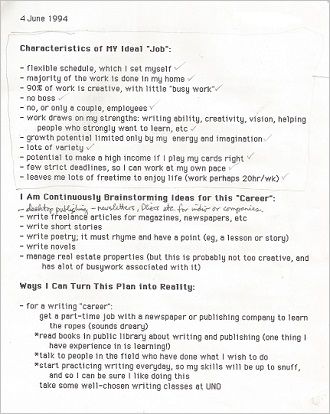 1994: My Ideal Job
flexible schedule, which I set myself

majority of the work is done in my home

90% of work is creative, with little "busy work"

no boss

no, or only a couple, employees

work draws on my strengths: writing ability, creativity, vision, helping people who strongly want to learn, etc

growth potential limited only by my energy and imagination

lots of variety

potential to make a high income if I play my cards right

few strict deadlines, so I can work at my own pace

leaves me lots of freetime to enjoy life (work perhaps 20hr/wk)
Keep in mind, 1994 was right at the beginning of the World Wide Web. At the time, I didn't even have internet access. Starting a web-based business wasn't on my radar at all.
And yet, today, every one of the bullet points on my "ideal job" list has come true, thanks to the successful online business I built with SBI! in the years since then. But I truly believe it would never have happened if I hadn't dreamed and decided to follow that dream.
If you're thinking of starting a web-based business, back up a bit first. Write down exactly why you want to start the business. Such a list will keep you on track. Importantly, it will also provide motivation while you build up the business, during those times when there is more work than reward.
The dream has to happen first.
Final Note in this SBI! Review: Beware of Imposters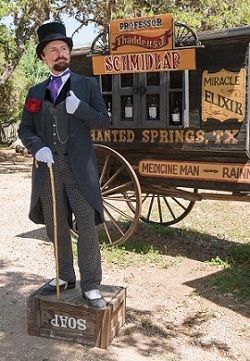 Snake Oil Salesman
(credit: Library of Congress; Public Domain)
I want to finish up my SBI! review by warning you about snake-oil salesmen. There are plenty of products online that say they can "help" you start a web-based business.
Despite the glowing sales copy, a close look reveals they are long on promises but short on results.
One example that I will call out is Wealthy Affiliate (WA), a product that, like SBI!, claims to help you build an online business.
The problem is the Wealthy Affiliate software doesn't work. SiteSell, makers of SBI, performed a rigorous study to compare the effectiveness of SBI! versus Wealthy Affiliate.
You can read the details of the study here: A Comparative Study: Solo Build It! vs. Wealthy Affiliate
Here's what the study found:
SBI! Sites are 33 times (33X) more likely to achieve "Outstanding – Excellent" levels of traffic than Wealthy Affiliate.

SBI! Sites are 10 times (10X) more likely to achieve "Medium" levels of traffic than Wealthy Affiliate.

The only category where Wealthy Affiliate "beats" SBI! is in the worst level of failure, "Invisible" (i.e., they get no detectable traffic). 87% of Wealthy Affiliate sites are "Invisible."
No traffic = no web business
My own website is testament to the effectiveness of SBI! software. Memory-Improvement-Tips.com is in the top ½ percent of the entire web. In other words, my SBI!-driven website ranks higher than 99.5% of all sites on the web.
To get customers, Wealthy Affiliate has started publishing fake reviews that appear to be SBI! reviews but then point the reader to their own software. They have paid affiliates doing this for them.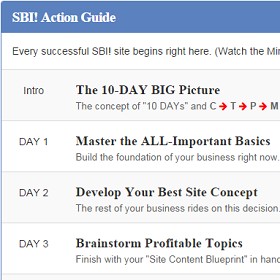 SBI's Action Guide
I find Wealthy Affiliate's slimy bait-and-switch sales practices irritating. But what is worse is the thought that someone like I was in the beginning, who is ready and committed to starting a web-based business, will be fooled by Wealthy Affiliate's snake oil product.
And then that person will waste years, or even give up, concluding that starting an online business is impossible.
Building your own successful online business is not impossible. SBI is the product you need to get it done. SBI! should be at the core of your efforts.
I recommend SBI! to my friends and family. Using their software, I started my own web-based business and changed my life, as I've explained here in my SBI! review. The proof is in the pudding, as the saying goes.
This is not to say that everyone who purchases a subscription to SBI! will automatically succeed. You have to bring your brain, attitude, and motivation - and follow the Action Guide. You have to persist and overcome many challenges.
The point I'm trying to drive home in this SBI! review is that if you want to give your online business the greatest chance to succeed, then the SBI! business-building software is the exact set of tools you need. You don't need to look any further.
To learn more about Solo Build It! (SBI!), I suggest you start with their home page:
Wishing you the greatest success,


Author, Memory-Improvement-Tips.com
Published: 05/31/2017
Last Updated: 06/11/2020
If you can dream it, you can do it."
- Walt Disney