Crazy Quilt Solitaire - Play Online Free
NOTE: This is an old Adobe Flash game. It no longer works.
Please visit the Free Online Brain Games page for the current online games.
Here's a fun variation of regular card solitaire. The cards in Crazy Quilt Solitaire are dealt out randomly in a woven quilt pattern.
To begin, click the Small, Medium, or Large link under the picture of the game. This opens the game in a pop-up window.
Sort cards from the quilt tableau into the eight foundation piles. It's quite a challenge!
Crazy Quilt Solitaire - Instructions
If you like this game, you might enjoy the other free online solitaire games on this site.
HOW TO PLAY. After the game loads, click the PLAY button to get started. The cards in this game are spread randomly on the table, in an interwoven pattern.
The cards alternate from sideways to vertical which makes the pattern. One look at the screen, and you'll see what I mean.
Your goal is to move all the cards off the table and into the foundation piles (home piles) on the right. There are eight foundation piles. Four piles count up (Ace to King), and the other four count down (King to Ace).
In a tip-of-the-hat to mahjong tile games, only cards with a short edge free can be removed from the table. If both short edges are blocked by another card, then that card can't be removed yet.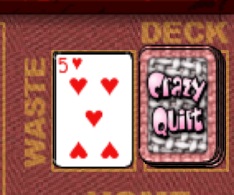 Waste Pile
So this means the cards in the center of the table start off blocked. You'll need to begin by working around the edges.
To move a card to a home pile, double-click the card or drag it with the mouse. Use the Waste pile to store cards for later use.
OPTIONS. There are a number of useful options in this game. For example, if you get stuck, click the Hint button. This causes a playable card to glow.
Another helpful feature is the Undo button. Click that one to take back a move.
There's more. If you click the Menu button, there's an Options button. On that screen, you can turn the game music on or off, mute game sounds, turn card animation on or off, and more.
There are three levels of difficulty available in Crazy Quilt Solitaire. Casual is the easiest and lets you loop through the deck three times. Regular lets you loop through two times. On Expert, you can only loop through the deck once.
Card solitaire games like this one train important brain skills like concentration, memory, and logical reasoning skills. Play solitaire often for a brain boost!
Published: 09/07/2016
Last Updated: 06/11/2020