Accelerated Learning - Giving Back by Paying It Forward
by Neil Segars
(Birmingham, AL USA)
After finishing engineering school and working a couple of years I decided to go to law school in 1963 while working full time. I had a wife and child and had to work so I entered a night law school and went 5 nights/week for 4 years.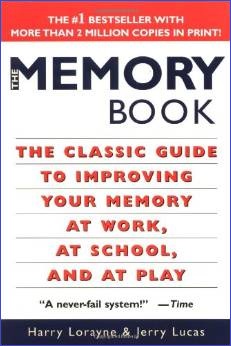 A
Harry Lorayne book
I found in the public library saved me from disaster. I couldn't remember most of what I read until I discovered this book during my first week in school.
By applying the
Link
and
Peg
word systems I finished 1st in my class and went on to get an MBA also.
My objective was to open my own computer systems integration business. This dream was achieved.
During this time I began volunteer working with inmates at a local state maximum security prison with other businessmen. I begin to notice there were some very intelligent men there with limited formal education.
Most had "dropped out" of formal school after thinking they were "losers" who could not learn. What a tragedy!
After several years I put together a one-year course I called "Accelerated Learning." This month marks the ninth year for the course. It is amazing to see the confidence these men gain after "learning how to learn."
For me, basic learning is:
Obtain the information,


Remember the information, and


Apply the information.
Remembering the information was their main problem as it had been
mine.
The memory feats these men can perform are remarkable to their peers and the prison staff. They are not remarkable to people who know and believe in the value of
memory systems
.
I am 74 now and trying hard to "give back." I feel like Johnny Appleseed planting the seeds of the value of memory systems to educators in my community. And as unbelievable as it may sound... it is a hard sell.
So I am going to students themselves and parents of students. A person has to have the burning desire to want to improve and make the commitment or it will never happen on a sustained basis.
The vast majority of our educators, particularly those in policy positions just don't seem interested. But our prisons are bursting at the seams, and at an immense expense.
With your blessing I will make
your web site
a "must" for those who are really interested in improving their ability to learn... and that includes me because I'm always looking for better ways.
Alvin Toffler said it best,
The illiterate of the 21st century will not be the individual who cannot read and write but the one who cannot learn fast and continuously for a lifetime.
Many thanks for the work you are doing. Please keep it up.