Personal Brain - Software to Organize Your Mind
I'm excited to tell you about Personal Brain, a free software program I stumbled onto recently.
You can use this program to organize your projects, ideas, documents, and even your thoughts in an amazingly way I've never seen before.
Remembering every detail of a project can be a huge challenge. You know: What was that website again? Who was my contact person? Where did I put that Word document that I need desperately right now?
The Personal Brain software allows you to track all this information on your own visual, dynamic "mind map."
This is the same way your brain works. Your brain cells (neurons) are not walled off from each other! On the contrary, every neuron has thousands of connections to the rest of your brain.
Take a look at the picture at left. This is an image from my own PersonalBrain.

Notice how Doug's Brain is at the center of the web. From that location, I've linked to various activities and projects that I'm working on and/or interested in. You can see connections to my Hobbies, Projects, Business, Self Improvement, and other areas of my life.

That's just the beginning of my Personal Brain's web. For each of the areas that I've linked to, I can add all sorts of details including notes, calendar entries, and web links.
Usually, managing your activities on the computer means putting all your notes, documents, lists, spreadsheets, and so on into "folders". The problem is that as soon as you do that, the different aspects of your project or activity are separated from one another, depending on how your folders are organized.
Instead of those pesky yellow folders, what you see in the Person Brain software is literally a detailed "web" of facts, ideas, lists, documents, and so on that you have created. Your web can be as simple or as complex as you want.
Using the mouse, you can drag and move the different areas around however you like. Here's what my interactive mind map looks like when I click my Hiking section: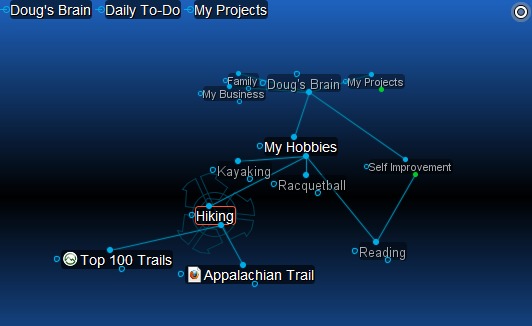 Notice how I've linked two websites to my Hiking group. If I wanted, I would no longer need to keep track of browser bookmarks. I'd simply go to my Hiking group in my Personal Brain, and immediately see the sites related to that hobby. Clicking the icon to the left of the website name opens that site in my browser.
The big advantage of the Personal Brain method is that, just like in your brain, every piece of information you care about is connected to (not separated from) all the other information. The details are not walled off in folders. Instead, with PersonalBrain you've got an organic mind-map of your projects and activities.
I'm not going to cover ever feature of the software, because there are far too many, and their website does a great job explaining the details. But here is one more example: you can attach detailed Notes to any of the thoughts that you've added to your dynamic mind-map.
Take a look at the image at right. Under my Hobbies area, I've added a Reading thought. Well, I like to read, and so I decided it would be helpful to have a list of the books I plan to read in the future, plus a way to track what I've read. In Personal Brain, this is quick and easy.

All I had to do was add a Note like this one to my Reading thought. Then, in the Note, type the list of books. Notes can be formatted any way you like.

I've added check boxes to the left of each book title. After I read a book, I click the check box to put a checkmark in it. Any time I want, I can go to my Personal Brain, select my Reading thought, and have instant access to my Reading List.
To maintain a reading list without the PersonalBrain software, I'd have to tack a physical paper note to my wall, or create a Word document and save it in a folder, or create a shortcut on my desktop, etc., etc. Even then my list would be saved separately from all my other projects. In Personal Brain, the details of all your projects and thoughts are integrated into one simple, intuitive web. Just like in your real brain.
Manage All Your Stuff from One Location
According to the developer, major uses of Personal Brain include:
See and do more with "digital thinking".

Integrate all your information in one place.

Access all your stuff anywhere.

Find anything instantly.

Powerful file management.

Get the big picture on your information.
The latest version is PersonalBrain 6.0. Did I mention that the basic version is FREE? When using the free version of the software, you will see no advertisements, and there is no expiration date. You just won't have access to advanced features.
There are two pay-versions of Personal Brain ("Core" and "Pro") for those who might need the extras, and those versions are not cheap. But from my own testing, the basic, free version is useful enough that many people may never need anything else.
What the Free Version Includes
The main limitation of the free edition of Personal Brain is that you can't attach documents like you can in the Core and Pro versions. If you can live with that, here is what the free version does include:
Visual navigation and associative linking

Unlimited number of Thoughts and links

Add web pages to Thoughts

Rich-text formatted notes, including check boxes

Thought types, tags, and properties

Custom reports

Instant search, and full content search

Presentation mode for showing your brain

Import bookmarks, mind maps, outlines, and more
That is quite a lot of free functionality! (As you can imagine, the pay versions of Personal Brain add even more features. You can read about those on the developer's website.)
To try PersonalBrain 6.0, simply go to the TheBrain.com and download the software. I recommend that you read through their website and watch a video tutorial or two before downloading the program. Even if you only want the free version, you still get to try the full-feature Pro version for 30 days. No credit card required, either.
Note: I am not an affiliate of the Personal Brain. I do not receive a commission or payment if you buy the upgraded version of their software. I just thought you might want to know about this product. It's not every day that you get to use powerful organizational software like this for as long as you want, for free.
You May Also Like
If you found the page above interesting, fun, or useful, please click the "Like" and/or "G+" buttons below. Feel free to leave a comment as well. Thanks very much!