Free Online Geography Game - World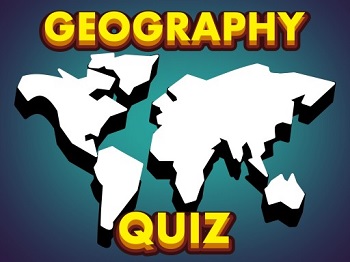 Here's an online geography game that tests your knowledge of world locations.
To begin, click the Medium link under the picture at left. This opens the game in a pop-up window.
It doesn't matter if you don't know anything about other countries. This game is a fun way to learn more.
Online Geography Game - Instructions
TravelPod, the creator of the game, asks "How Well Do You Know Your World?"
From national capitals to world heritage sites, this game boosts your world geography IQ. How it works is simple but not always easy: Plant your flag on the world map as close to the actual location as possible.
If you like this free geography game, you might also enjoy the free online Map Making game and U.S. State Capitals Quiz.
HOW TO PLAY. This online geography game not only tests your memory of world geography, it's also a great learning game. Each time you plant a flag, the correct location appears on the map. That way you can learn new geography facts every time you play.
When you open the game, a "randomizing locations" message displays. Each time you play, you get a fresh mix of world geography questions!
Next a world maps appears which shows country borders. You'll also see a Get Started window. Click the Start button on this window to begin the free geography game.
There are 12 levels in this game. But there's no guarantee you'll get to the end. This online geography game is really tough at higher levels.
To progress through subsequent levels, you must exceed the point threshold for each level. I reached Level 6 - World Capitals (Medium) before finally getting stumped.
At the end of Level 6, the game displayed this message:
Level 6 of 12 Complete. Sorry, but you need 30,000 points to continue to the next level. You scored 28,124 points on World Capitals (Medium).
Don't worry, this online geography game starts with locations you may already know, such as major world capitals. The first challenge is Level 1 - World Cities (Easy). To access Level 2 - Famous Places, earn at least 12,500 points on Level 1.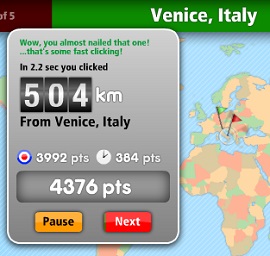 As soon as you click the Start button, Level 1 begins. The questions come fast and furious, so pay attention and answer as quickly as you can. To indicate where you think the city or site is located, click the appropriate location on the world map.
For example, the city "Venice, Italy" may appear in the green bar at the top of the screen. As quickly as you can, click Venice's approximate location on the Italian penninsula.
A red flag appears where you clicked. Then a green flag appears at Venice's exact location automatically.
A pop-up window indicates how well you answered the question. It shows your score for that geography question.
In the image above, you see that my red flag was 504 kilometers from Venice's true coordinates. I earned 4,376 points for that answer, including 3,992 points for being near and 384 points for my fast response.
Each geography question is accompanied by a fun fact about the location. The fact appears at the bottom of the screen. For instance, you may learn that, "Miami is home to the world's largest Cuban population outside Cuba."
Or suppose the question is about Barcelona, Spain. You'll learn that "Barcelona is home of the Sagrada Familia, a church in construction since 1882."
Geography is primarily a memory task. But if you can master geography (or at least develop a working understanding of major cities and sites), you'll have an powerful mental framework on which to hang other important areas of knowledge - especially world history.
Use this free online geography game from TravelPod to boost your understanding of countries across the Earth. This brain game may even spark or rekindle an interest in foreign places and cultures, a quality well worth cultivating.
Game distributed by TravelPod.com. Used with Permission.
You May Also Like
If you found the page above interesting, fun, or useful, please click the "Like" and/or "G+" buttons below. Feel free to leave a comment as well. Thanks very much!