Word Finder - Free Online Word Puzzle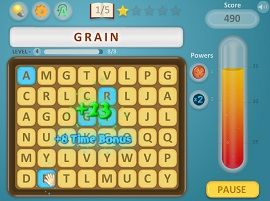 If you miss Bookworm, try this Word Finder puzzle! Make as many words as you can from the letters in the grid.
To begin, click the Small, Medium, or Large link, or HTML5/Mobile link under the picture at left. This opens the game in a pop-up window.
Note: The HTML5/Mobile version is an HTML5 game. It does not require the Adobe Flash Player. It is a similar game by a different game developer.
Worder - Instructions
This game is similar to Bookworm but better in some ways. You can even save your progress (something not possible with the old Bookworm game).
Find letters in the grid to spell the given word. Compete against the timer to form words quickly for bonus points and to earn powers.
If you like this game, you might enjoy the other free online word games on this site, such as Alphabet Jungle and Spiderman Web of Words.
This game has so many power ups. You can freeze time, double your points, and use Hints, Scramble Letters, and Skip Word to help you as you go through levels!
HOW TO PLAY. This Worder game has 12 levels of word-finding fun. See how quickly you can finish all the levels, and go for a high score.
Like Bookworm, the idea with this game is to identify hidden words in the puzzle grid. Unlike Bookworm, in Worder the letters of the given word are scattered in the grid and need not be touching.
The puzzle field has 48 randomly sorted letters in a 6 by 8 grid. Click a letter to select it for your word. Be sure not to let the timer on the right side run out.
As you progress through levels, the words to find get longer. For example, during Level 1 you might be asked to find the word "PAD". By Level 6, you might need to find longer words like "EXISTENCE".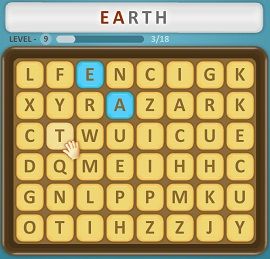 The Letter Grid
The number of words to find also increases per level. On Level 6, you might need to find 12 words. By Level 8, it's 16 words.
After the game loads, the menu screen displays. You have the choice of START GAME, PRACTICE MODE, HOW TO PLAY, and OPTIONS. If you already know how to play and want to jump right in, click the START GAME button.
If you're new to this game, try PRACTICE MODE. This mode disables the timer, so you can casually take your time with this word puzzle.
As you migh expect, the HOW TO PLAY button opens an Instructions screen. Feel free to check this out if you wish to learn the nuances of the game. Click the LET'S PLAY button on that screen to exit the instructions and start playing.
To save you time, I'll paraphrase the in-game instructions here:
Find the word hidden in the puzzle by clicking letters in the grid. Time is your enemy, and if the timer on the right side runs out, the game is over.
Unlock books by completing levels to view some interesting facts.
Powers, Options, and Save Games
Powers - You can activate Freeze Time by clicking the red coin-shaped button by the timer. Get double points by clicking the Double Points button below that.

Hint, Scramble, Skip
Get these powers by getting repeated combos. If you find the word before 60% of the time runs out, you'll get a Time Bonus. Three time bonuses in a row gives you a combo.
Three buttons in the upper left are quite useful: Hint, Scramble, and Skip Word. Use these when you get stuck.
OPTIONS. Click the OPTIONS button opens the Options screen where you can customize game play. Configurable options include turning music and sound effects on or off; selecting the graphics quality; and clearing your saved data.
Freeze Time, Double Points
SAVE GAMES. As long as the game cookie remains in your browser, your level progress is saved. That means you can continue tomorrow right where you left off.
For example, suppose I reach Level 6 today. As long as the game cookie is intact, I can return to Worder in a few days and resume at Level 6 instead of starting over.
If you need to take a break while playing, click the Pause button below the puzzle grid to pause the game.
Word games like Worder train important brain skills including language, visual perception, and reaction time. Play these word games often for a brain boost.
Published: 06/14/2016
Last Updated: 06/11/2020