Sushi Go Round - Free Brain Game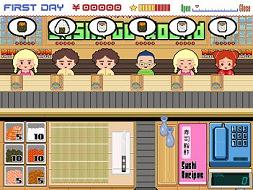 Sushi Go Round trains your short-term memory and concentration. See what it's like to be the chef at a busy sushi restaurant.
To begin, click the Small, Medium, or Large link, or HTML5/Mobile link under the picture of the game. This opens the game in a pop-up window.
Note: The HTML5/Mobile version is an HTML5 game. It does not require the Adobe Flash Player. It is a similar game by a different game developer.
Sushi Go Round Instructions
After the new window opens, click the "Play" button in the middle of the game. Then click the flashing PLAY button to start the action.
For each day, you'll be given a set goal of sales. If you can do it, that means you'll pass to the next day. Good luck with Sushi Go Round!
HOW TO PLAY. You are the replacement Chef, you have a 1-week trial to use the correct recipes and serve the customers in the Sushi Restaurant.
"Just in time! You come at the right time. We need chef replacement and we'll give you one week trial."
As a new sushi chef, here's how to get started:
Here is our first customer, and he is ordering the California Roll. To find out what California Rolls' ingredients are, click on the pink recipe book.
Remember that while you're looking at the recipes, your customers are still waiting, so don't take too long.
To make a California Roll, you'll need 1 rice, 1 nori, and 1 roe. Then click on the roller under your portions to mix it.
If you're running low on stock, use the blue telephone to order more. Keep an eye on your budget, though, or you might run out of money.
Watch out for your customer's mood, don't serve them too late or they will leave!
Published: 04/29/2010
Last Updated: 06/11/2020