School Supply SNAP (Desktop only)
To play this game, visit this page on a desktop or laptop computer. This game does not run well on phones or tablets.
Choose a different game:
Free Online Brain Games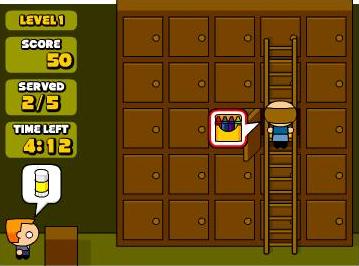 This School Supply SNAP game helps train your spatial memory, the ability to remember the physical location of items.
There are 25 different supplies in the cupboard - a real workout for your memory!
To begin, click the Small, Medium, or Large button under the picture of the game. This opens the game in a pop-up window.
If you like this game, you might also enjoy the Lightning Librarian game.
School Supply Snap Instructions
HOW TO PLAY.  Click the PLAY button to display the How to Play screen. Click the PLAY button again to begin the game.
The game starts at Level 1.
You run the school supply room, and it's your job to hand out school supplies. When a student comes to the counter, you need to give them the item they need.
Remember where the different school supplies are located in the supply cupboard. School supplies include tape, scissors, pencils, glue, markers, and much more.
Move your character by pressing the Arrow Keys. Press the Spacebar to open a cabinet door.
Once you have the item, run back to the counter and press the Spacebar to give the item to the student. You need to serve all the students who are waiting in line before time runs out - so you need to move fast!
Published: 09/28/2008
Last Updated: 06/11/2020