Rise of Atlantis Game - Play Free Online
NOTE: This is an old Adobe Flash game. It no longer works.
Please visit the Free Online Brain Games page for the current online games.
This Rise of Atlantis game is a jewel matching challenge similar to Bejeweled. But it's much more. To progress through levels, you need to gather fragments of ancient artifacts!
To begin, click the Small, Medium, or Large link under the picture of the game. This opens the game in a pop-up window.
Jewel matching games train brain skills like concentration and visual perception.
Rise of Atlantis Game - Instructions
If you like the Rise of Atlantis game, you may enjoy Jewel Quest and Candy Crush Speed Challenge.
HOW TO PLAY. Match three-in-a-rows to drop tiles to the bottom of the game screen. Use bonuses to clear screens faster.
After the game opens, click the gold PLAY button on the intro screens to get started. Then you'll see a tiled grid of jewels, coins, and other valuables. You'll also see one or more pieces of ancient artifacts.
Your goal on each level is to move the artifacts to the bottom of the grid. When an artifact reaches the bottom, it is attached to other fragments you've found to reassemble the item.
For example, in the first series of levels of Rise of Atlantis, your goal is to re-assemble a Phoenician treasure chest.
To form three-in-a-rows, use your left mouse button to swap tiles. Drag a tile to swap it with an adjacent tile.
To proceed through each level, form three-of-a-kind or four-of-a-kinds by matching like items. This causes the jewels and other items above to drop down.
This is the same dynamic as Bejeweled.
For example, if you line up three ancient helmets, the helmets disappear and the tiles above them drop down in the grid (and you get points).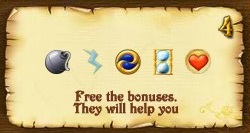 BONUSES. Each four-of-a-kind powers up a special bonus you can use later to zap a large number of jewels from the grid at once.
As shown in the image at left, there are bonus tiles as well. To earn these bonuses, you need to get the associated tile to the bottom row of the grid.
For example, the Lightning bonus lets you instantly remove all of a certain tile from the grid. If there are gold coins blocking your progress, for instance, you can zap them all at once using this bonus.
To earn the lightning bonus and other bonus tiles, remove three- and four-of-a-kinds to drop those tiles to the bottom.
STRATEGY. The Rise of Atlantis game does involve a bit of strategy. You'll be more successful if you're able to predict the consequences of your moves.
For instance, if you can see a move or two ahead, you might be able to line up jewels for a four-in-a-row.
NAG SCREENS. There are lots of playable screens in this free Rise of Atlantis game. But since the developer wants you to purchase the full downloadable game, every two screens you'll see an offer advertised.
You can skip the offer by clicking the green CONTINUE button.
I was able to get 117,885 points in Rise of Atlantis (Egypt stage 5) without reaching the end. So I'm not even sure many levels there are in this game.
I do know that after you complete the Phoenician artifact section, the next section of levels involves a Babylonian artifact. After that is an Egyptian artifact.
If you get past Phoencia, Babylonia, and Egypt send me a message and let me know which artifacts come next.
UPDATE: Apparently level 12 of the Egyptian period is the final level of this game. That's according to Kathryn, a visitor who was kind enough to email me the answer.
When she completed Egyptian level 12, the game kicked her back to a new game starting with the Phoenicians. Thanks, Kathryn!
This Rise of Atlantis game is quite fun and challenging. It's useful to play as a brain game, since it trains visual attention and concentration. Like other jewel matching games, Rise of Atlantis is a visual puzzle that keeps you coming back for more.
Published: 06/05/2014
Last Updated: 06/11/2020