Play Mancala Online - Free Brain Game
To play this game, visit this page on a desktop or laptop computer. This game does not run well on phones or tablets.
Choose a different game:
Free Online Brain Games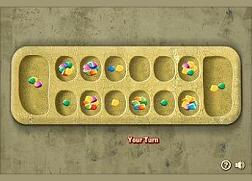 Now you can play Mancala online, for free! This beautiful, ancient game trains analytical thinking and problem solving skills.
This game is part of the free online brain games collection.
To begin, click the Medium button under the picture of the game. This opens the game in a pop-up window.
If you like this game, you might enjoy Connect Four.
Play Mancala Online - Instructions
Collect as many gems in your "mancala" as you can. Your mancala is the large cup on the right of the board.
This game appears simple, but there really is some strategy to it.
Whether you play mancala online against the computer or on a real board with a friend, I think you will find it fun, interesting, and a great brain workout.
This happens to be a two-player mancala board. But there are also four-player boards in the shape of a square.
Scroll down to see pictures of the two styles, as well as some history of the game of mancala.
HOW TO PLAY.  You and your opponent take turns moving the gems across the board based on the following rules:
You can only move gems from the small cups on your side of the board

Each time you move, pick up all the gems in a cup and distribute them in a counter-clockwise direction to the next cup. Drop one gem into each small cup and into your mancala as you pass by until the gems in your hand are gone.

Do not drop a gem in your opponent's mancala as you pass it by.

If the last gem of a move lands in your mancala, take another turn.

If the last gem of a move lands on an empty cup on your side, and there are some gems in the opposite cup on your opponent's side, you will capture the gems from both cups into your mancala.
The game ends when all the cups on your side or your opponent's side are empty. The remaining gems on the other player's side are counted as that player's gems. The player with the most gems in his mancala at the end of the game wins.
The computer AI in this game plays mancala skillfully. I lose to it most of the time. To prove it can be beaten, in case you're doubtful, here is a screen image of one of my winning game sessions: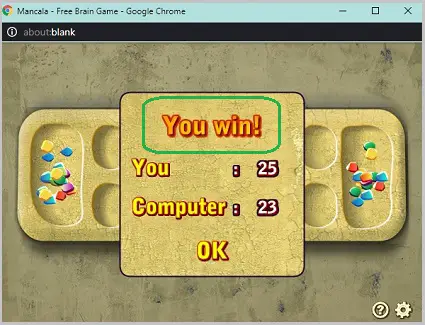 Good luck!
Playing Mancala in Person
It's fun to play mancala online, but it can be even more enjoyable to play the game in person. Mancala existed for hundreds of years as a board game before it became an online game, of course.
Mancala seems to be growing in popularity. I recently purchased the physical mancala board game from the game isle at my local Dollar General convenience store, believe it or not. But you can also get it at online sites such as Amazon.com. Here are a few examples of what you can find:
The mancala board I bought is cheap plastic and only cost $5. But as the examples above show, there are nicer boards and a variety of styles.
Interesting Facts About Mancala
Here is some background information about Mancala from Wikipedia:
Mancala represents a family of board games found around the world called "sowing" games or "count-and-capture" games.

The holes in the board are called depressions, pits, or houses. The large holes on the ends are sometimes called stores.

Playing pieces are typically seeds, beans, stones, cowry shells, or other small counters.

Mancala games fill a similar role in many African and some Asian countries similiar to that of chess in Western countries.

The word mancala comes from the Arabic word naqala which means "to move".

The first evidence of the game are pottery board fragments in Ethiopia from the 6th and 7th centuries AD.

There is actually no one game with the name mancala. Instead it is a type or designation of a game.

Wooden Mancala Board from West Africa
Image Credit: Indech, Wikimedia Commons
I hope you have fun whenever you play Mancala online here on my site!
Published: 01/26/2010
Last Updated: 06/11/2020