Pharaoh's Treasure - Free Brain Game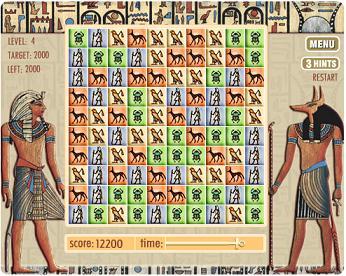 Pharaoh's Treasure is a fun puzzle game that helps build perception and concentration.
To begin, click the Small, Medium, or Large link, or HTML5/Mobile link under the picture of the game. This opens the game in a pop-up window.
Note: The HTML5/Mobile version Stone of the Pharaoh is an HTML5 game. It does not require the Adobe Flash Player. It is a similar game by a different game developer.
Pharoah's Treasure Instructions
To open the secret passage and grab the treasure, you have to accumulate a score of at least 1,000,000 points.
You also have to achieve a minimum amount of points each round to advance to the next level. Hurry up, you've got 90 seconds to complete each round.
HOW TO PLAY.  You are an Egyptian explorer looking for Pharaoh's lost treasure.
You believe it is in a secret room in one of the pyramids. But Pharaoh has blocked the passage to the riches with a clever advanced coding method far ahead of it's time.
To begin playing, left click on any 4 tiles of the same pattern to form squares as big as you can. All the tiles inside the square are erased and you collect the points.
Match the different tiles and accumulate points to open the secret passage to the hidden treasure of Pharaoh.
Published: 10/31/2007
Last Updated: 06/11/2020