Mayan Mahjong - Free Online Brain Game
NOTE: This is an old Adobe Flash game. It no longer works.
Please visit the Free Online Brain Games page for the current online games.
Mayan Mahjong is a fun, colorful mahjong tile game. Play free online here!
To begin, click the Small, Medium, or Large link under the picture of the game. This opens the game in a pop-up window.
Clear the stacks of tiles by clicking on pairs of matching tiles. Only tiles that aren't blocked can be removed.
See below for complete rules.
Instructions - Mayan Mahjong
If you like this game, you might enjoy the other free mahjong tile games on this site, such as Chinese Mahjong.
HOW TO PLAY. This mahjong game has a colorful Mayan theme. As you may know, the Mayan culture flourished in Mesoamerica, rising to prominence around 250 AD.
The tiles in this game show symbols that I assume are meant to represent Mayan writing. I don't know if they're accurate, although they might be.
This game follows the standard rules of mahjong tile games. Remove pairs of matching tiles by clicking on them. You goal is to clear the entire stack of tiles from the board.
Tiles can only be removed if they are not blocked. This means the right or left side (or both sides) of the tile must not be obstructed by another tile.
Also, there can't be a tile on top of the tile you want to remove.
I've noticed that in this game, there are two types of orange tiles that are very similar. One seems to have highlights, while the other is flat.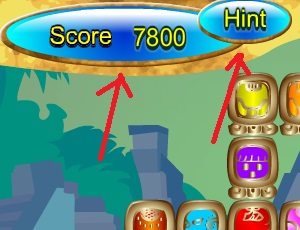 Score and Hint
So if for some reason two orange tiles won't match, look at them closely to make sure they are actually the same kind of tile. Obviously they can't be blocked either.
There are multiple levels of tilesets in this mahjong game. The first level is Pyramids. After you clear the first screen, then Level 2 Colosseum is next.
I don't know how many levels this game has, so if anyone manages to play to the final level, please let me know what it is.
UPDATE. A visitor named Rénay has beaten this game and reported on the levels:
I've just managed to crack the MOST frustrating game ever on your site: the Mayan Majhong!! Yippee!!!! The game has three levels, the third being "The Great Walls.
Thanks, Rénay!
Game Features
This Mayan Mahjong game has some useful features. There's a Hint button you can click in case you can't find any pairs to match.
Note that you get unlimited Hints, but every time you use a hint you lose 1,000 points. If you have less than 1,000 points and use the Hint, you will actually have a negative score at that point.
There's also a timer and a score display, in case you want to set a goal for yourself. Setting a goal can improve your concentration during the game, the pressure of the goal forcing you to focus more intently.
Games like Mayan Mahjong train important brain skills like concentration and visual perception. Play this game often to give your brain a boost!
Published: 05/23/2017
Last Updated: 06/11/2020