Mass Attack - Free Brain Game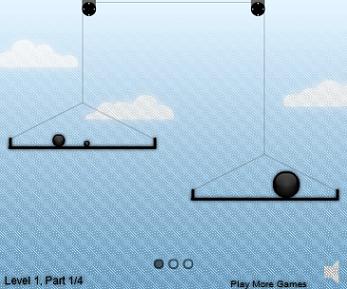 Mass Attack is a fun but very challenging puzzle game. The object of Mass Attack is to balance the weight on two sides of a scale.
To begin, click the Small, Medium, or Large link, Very Large button, or HTML5/Mobile link under the picture at left. This opens the game in a pop-up window.
Note: The HTML5/Mobile version Construction Weights is an HTML5 game. It does not require the Adobe Flash Player. It is a similar game by a different game developer.
Mass Attack Instructions
HOW TO PLAY. Click the Play button to begin. A quick tutorial automatically starts to explain how to play the game.
It sounds simple, but it's not easy.
After you learn the rules, the next time you can skip the tutorial by clicking the "Skip Tutorial" button.
The game works like this. Each round, the computer adds a few random weights to the right side of the scale.
Using the mouse, you need to inflate up to three weights on the left side of the scale to balance out the total weight on the right side of the scale.
Simply hold down and release the left mouse button to inflate a weight.
You "win" a round by adding weight on the left side of the scale that comes within 5 pounds or less of the weight on the right side of the scale.
This is a great puzzle game for improving attention and cognitive control. Have fun!
Published: 04/13/2008
Last Updated: 06/11/2020
Game distributed by CrazyMonkeyGames.com. Used with Permission.
If you found the page above interesting, fun, or useful, please click the "Like" and/or "Share" button below. Feel free to leave a comment as well. Thanks very much!