Mario Memory Game - Play Free Online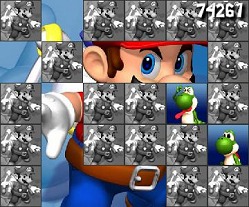 Mario Memory Game is based on the old Concentration game played with cards.
This game is a brain-boosting challenge that exercises your short-term memory.
To begin, click the Small, Medium, or Large button under the picture of the game. This opens the game in a pop-up window.
Mario Game Instructions
To begin playing Mario Memory just like when playing Concentration, turn over a card and remember the picture on it.
Then, turn over another card to see if they match.
If you like this game, you might also enjoy the other free online memory games on this site, such as Perfect Match, Brain Sequencer, and Trivial Pursuit Blitz.
HOW TO PLAY. This Mario game is a card-matching game. The cards on the game screen are dealt face down.
Your job is to turn the cards over, one by one, and remember the positions. When you turn over a card that matches one you've already seen, turn them both over to form a matching pair.
If the pictures on the two cards you turned over match, those card are removed from the board and part of a Mario image is revealed underneath. If they don't match, both cards turn face-down again.
If you've ever played the Glitter Memory concentration game on this site, then you're familiar with how this Mario game works. Most concentration card games, even when played with actual cards, work the same.
Try to find all the matching pairs and reveal the entire Mario picture before the timer in the upper right corner runs out.
In this Mario Memory game, the images on the cards are of Mario himself in various action poses. You'll also see characters from the popular Mario arcade game. Besides this game, Brain Power Zoo is another well made concentration card game you might like.
This Mario Memory game helps train important brain skills including concentration and short-term memory. Practice with it often to give your brain a boost!
Published: 09/28/2008
Last Updated: 06/11/2020