Mahjong Toy Chest - Free Online Brain Game
If you are a fan of mahjong tile games, you'll enjoy this Mahjong Toy Chest game. With its toy-based theme, it's a fun diversion from typical Chinese tile sets.
To begin, click the Small, Medium, or Large link or PLAY GAME button under the picture at left. This opens the game in a pop-up window.
This game follows the usual rules of mahjong.
Instructions for Mahjong Toy Chest
With images of toys instead of Chinese characters, this free online mahjong game is a more light-hearted version of the classic tile-based puzzle game.
Tile games like Mahjong Toy Chest can strengthen important brain skills such as concentration and thinking speed. Play mahjong games to improve attention span, pattern matching quickness, and related mental abilities.
HOW TO PLAY. This online mahong game follows the same basic rules as other mahjong tile games you've played.
The goal of this game is to remove matching pairs of tiles from the stack. The stack is also known as the mahjong layout.
A pair means two tiles that have the same image. In this Mahjong Toy Chest game, the images are pictures of toys, dolls, blocks, teddy bears, and other children's playthings.
To remove a matching tile pair, click the first tile to highlight it, then click the second tile. Both tiles then disappear from the stack. For example, to remove two soccer ball tiles, click the first tile then click the second one.
As in other mahjong games, there is one restriction on removing tiles. You can't remove any mahjong tile that is "blocked".
A tile is blocked if any of the following are true: 1) the tile is covered by another tile, or 2) the left AND right side of the tile are blocked by adjacent tiles at the same level.
TYPES OF TILES. Because mahjong originated in Chna, the tiles of most mahjong games show an image of a Chinese character. You won't see any Chinese writing in Mahjong Toy Chest. The categories of mahjong tiles you'll see in this game include:
Books

Dolls

Shapes

Fragile Toys

Presents

Teddy Bears
Within each of these tile groups, there are several variations. For example, the Fragile Toys group includes a camera, cell phone, and guitar.
You can only make exact tile matches. In other words, even though different shapes may fall in the same tile group, you cannot match them. For example, the blue star and the yellow star are both in the Shapes group, but they don't count as a matching pair. Valid matching pairs would be two yellow stars or two blue stars.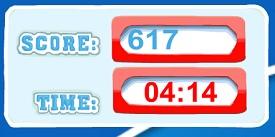 TIME. Mahjong Toy Chest is a timed game. You have 5 minutes to remove all matching tiles from the stack. A countdown timer displays in the upper left corner. To stop the timer temporarily, click the Pause button at the top of the game.
Once the timer expires, the game is over. You can't select any more matching tiles, and your displayed score is the final score.
TROPHIES. This game displays trophies on the right side of the screen for certain mahjong achievements. The trophies you earn are held by a cute penguin character.
Examples of Trophies include Two Matches in 4 Seconds, 3 Matches in 6 Seconds, and 8 of the Same Suit in a Row.
HINTS. Unlike other mahjong tile games like Nao's Shanghai mahjong, this Mahjong Toy Chest game DOES NOT have a hint feature. That makes this game quite a bit more challenging than you might expect.
TILE LAYOUTS. Each time you load the Mahjong Toy Chest game, a different mahjong tile layout displays. Examples of stacks you'll see include World Snake, Twin Peaks, The Well, The Altar, Stair Master, Spiral, and Celtic. The name of the layout describes the shape of the tile stack.
TILE LAYOUT VIEW. You have the option of changing the layout view, from 2D to 3D. Click the Switch Views button at the top of the game window to change your preference.
SCORE. Tiles groups have an assigned point value. The relative value of a tile displays when you hover over the tile.
The value shown isn't the actual value. It's more of a point level. So, a tile with a value of 4 will gives a lot more points that a tile with value 2.
Mahjong Toy Chest is fun and light-hearted, but it's still a powerful brain game. The 5 minute timer makes this game especially challenging. For more free online mahjong games, visit my Mahjong Tile Games page.
Published: 04/05/2014
Last Updated: 06/11/2020
Game distributed by Patschat.co.uk. Used with Permission.
If you found the page above interesting, fun, or useful, please click the "Like" and/or "Share" button below. Feel free to leave a comment as well. Thanks very much!