Last Spy Solitaire Card Game - Play Free
NOTE: This is an old Adobe Flash game. It no longer works.
Please visit the Free Online Brain Games page for the current online games.
Looking for a different type of card solitaire game than the usual? Try this one, Last Spy Solitaire. Clear matching pairs of playing cards before the timer runs out.
To begin, click the Small, Medium, or Large link under the picture of the game. This opens the game in a pop-up window.
This game has a Soviet theme, of all things. And 20 levels of solitaire for you to solve!
Instructions - Last Spy Solitaire
After the game loads, click the START button on the game to begin. Or, click the How to Play button for a brief tutorial.
On clicking the START button, the Levels window appears. Click the level you want to attempt.
When you first play Last Spy Solitaire, only Level 1 is available. Work your way up to Level 20 by clearing each level in turn.
If you like this game, you might enjoy the other free card games on this site, such as Basic Solitaire and Speed Cards.
HOW TO PLAY. Two decks of cards are arranged face-down in a pattern (for example, a pyramid shape), with a portion of the cards in the draw pile. The cards on top are turned face-up. Your job is to match pairs of cards, by number only, to remove them from the board.
For example, match any Jack to another Jack, any 4 to another 4, etc. The suit of the cards doesn't need to match.
To form matching pairs, simply click two matching cards. They are removed from the board and placed in the foundation piles in the lower right.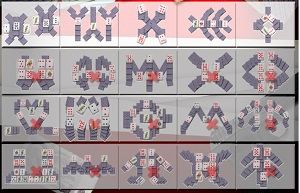 20 Levels to Solve
It doesn't matter if a face-up card is partially covered by another card. You can still use that card to form a pair.
If you don't see any matches, click the draw pile in the lower left. This reveals two new cards.
This card solitaire game isn't complicated. But your eyes need to be razor-sharp. That's because you only have 5 minutes to clear the board.
This game has an interesting soundtrack. It's apparently a Soviet war song, perhaps from World War II. I put it through Shazam and Google Translate... the song's title is something like, "When Will You Be Back, Pilot?"
If you have any information about that song, feel free to send me a message through my Contact Me page. I'd be interested to learn more about it.
Note - After awhile you may grow tired of listening to the song. While there is no built-in volume button in the game, you can still mute the sound using one of the methods on this page.
I don't have many strategy tips for this game. One might be to always use the cards on the layout before turning to the draw pile for new cards.
That's because you can only go through the draw pile three times. After that, if you have no more moves, the game is over.
Game Options
There are a few useful options at the bottom of the game screen. The Pause feature stops the timer in case you need to take a break.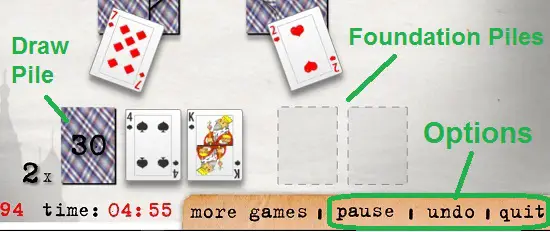 The Undo button is self-explanatory. Click this button if you want to undo a move you just made.
The Quit button sends you back to the Main Menu in case you're done playing, or if you want to start the level over.
Originally this game had a scoreboard feature where you could submit your high score and compare it to others. I wouldn't bother clicking that option, though. It sends you to another website, and the scoreboard doesn't seem to be working.
So far I've gotten to Level 4, but I bet I can do better. How high can you go in this Soviet-themed card solitaire game?
Games like this Last Spy Solitaire card game train important brain skills like concentration, visual perception, and logical reasoning. Play this game often to give your brain a boost!
Published: 05/21/2017
Last Updated: 06/11/2020