Glitter Memory - Free Online Brain Game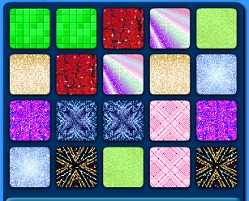 Glitter Memory is a variation of the classic "Concentration" memory game. Games like this strengthen your short-term memory.
To begin, click the Small, Medium, or Large button under the picture of the game. This opens the game in a pop-up window.
When the game loads, you have 35 seconds to study the game board. Memorize the locations of as many pairs of cards as you can.
Glitter Memory Instructions
If you like this game, you might also enjoy the Mario Memory Game and Quic Pic memory match game pages.
HOW TO PLAY. Study the pattern of colored squares in the game. Notice where the matching pairs are.
When you're ready, click the "I'm Ready" button to begin or simply wait 35 seconds for the game to start.
The actual gameplay starts with all the cards upside down.
Turn over any two cards. Try to remember which cards match each other, and turn those over.
If the cards match, you score and the cards will be removed. If they don't match, the cards turn back over.
Remember the pattern on each card as well as its location.
The game is over when all the cards have been matched. Each time you play, try to complete the puzzle in fewer turns than before.
Published: 06/07/2008
Last Updated: 06/11/2020