Free Online Bookworm Game
NOTE: My apologies, but the free Bookworm game is no longer available. For another game where you pick letters to form words, give the Worder Puzzle a try.
 
If you like word puzzles, this free online Bookworm game is sure to keep your brain sharp. This is the classic version of Bookworm, the popular internet, iPhone, and Android game.

Make words from a random collection of letters on the board. The goal of this Bookworm word game is to get the highest level and score you possibly can.
Free Online Bookworm Game - Instructions
The best I've done is reach Level 5 with 42,380 points. But a visitor from Australia named Leanne has put me to shame. She has reached Level 24 with 2,002,400 points. See if you can top that.
But few are in the same league as visitor Les. So far, he has made it to level 106 in this Bookwork game, with over 50 million points ! (See a screen image of his score below.)
Bookworm is a great brain game. As with most word games, it trains verbal fluency and concentration. If you like this game, you might also enjoy Scrabble Sprint.
HOW TO PLAY. You start the game at Level 1. To form words, click the letters you see on the board.
For example, if you see the letter C, O, T you can click them one by one to make the word "cot". The trick is the letters you use have to be touching each other (see screen image above, where I spell the word "snoop").
After clicking the letters you want, submit the word to the scoreboard. Submit either by double-clicking the last letter of the word or by clicking the SUBMIT button.
As you form words and accumulate points, you'll notice the bookshelf above the bookworm starts to fill with books. Once the bookshelf is full, you'll level up automatically.
Saving Game Progress. There is no way to save your Bookworm game session. Unfortunately you just have to keep the Bookworm window open as long as you can. I wish the developer had included that feature.
Advice from a Bookworm Master
A visitor named Les has out-achieved the vast majority of Bookworm players. To date, Les has reached a score of 50,779,990. Yes, that's over 50 million points.
Les was kind enough to share his thoughts about the game at higher levels. Following are some tips and observations he made: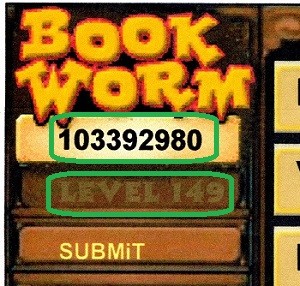 UPDATE: Les has now reached Level 149,
with over 100 million points!
LES: "Well, here's another one for you to see, this time I've gone through the 100 level mark, now on level 106, and the running total is now as you can see, 50,779,990, with no real sign of it ending.
"The words have now got noticeably more difficult to find, being slightly more mis-aligned than on previous levels.
"At this level the increase per 'level up' is now 1 million plus. The increases per level are interesting to log, they go up quite predictably for a while, but then there's a bit of a blip, and you get very few, or a lot more than expected.
"Some different words appear to be able to be generated as well now, but the words that are available are really odd in their origination. There are a number of American words that we wouldn't use over here [UK], and some very old fashioned words that are mostly now out of use here.
"It's really a question of trying all options, even if you think it's not a word.
"The number of times I've had to 'refresh' the screen as well has been remarkably few."
Thanks so much for the guidance, Les, and for the screen image showing you at Level 106. You are surely an inspiration for the rest of us.
More Bookworm Tips
The dictionary in this free online Bookworm game is fairly extensive. It had no problem recognizing oddball words like gout, nix, and muddy, which is exactly what you'd want.
There's nothing more frustrating when playing a word game than entering a word you know is a legitimate word, only to have the game reject it. The only time that happened to me in this free online Bookworm game is when I tried to submit the word "que".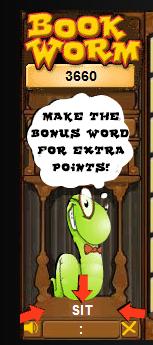 The problem with that word wasn't that it was not in the dictionary. It was due to the fact that the qu sound in Bookworm is formed with only two tiles, not three.
I suppose because "q" by itself isn't a very useful letter, the Bookworm word game developer decided to always pair it with the "u" letter. In other words, it's the only tile that has two letters on it, like this: Qu.
So, the minimum length of a word is three letters. The longer the word you make, the more points you receive for the word.
It's tempting to always take the first three-letter word you see. But this Bookworm word game is not on a timer. There's no advantage to hurrying. Slow down, take your time, and you'll probably find longer, higher-value words.
For instance, you might see S I T and immediately think to submit this as "sit". Before you do, pause and look around. You might just find S I T T E R, which will give you far more points.
While playing this game, I noticed that after awhile certain parts of the board became locked up. For example, the lower right corner ran out of vowels. Well, you can't make many words without vowels. The reshuffle feature is the solution.
RESHUFFLE. This free online Bookworm game contains a few surprises. One is the very helpful reshuffle feature. If you find yourself with an mostly unusable mess of letters, simply click the Bookworm character to scramble the letters.
This is not your typical scramble feature. It actually deals an entire new set of tiles. There's no time or point penalty for reshuffling.
LETTER VALUES. As in Scrabble, the tiles in this free online Bookworm game have point values based on how rare the letter is.
For example, the letter "E", the most common letter in the English alphabet, is worth only 1 point. The letter G is worth 3 points, P is worth 4 points, Y is worth 6 points, and so on.
BONUS TILES. Periodically a colored tile will drop onto the board. Try to include the colored letter tiles into words whenever possible, for bonus points.
BONUS WORDS. A bonus word appears directly below the Bookworm character. For instance, the word "ZOO" may appear there. Try to form that word for even more bonus points.
This free online Bookworm game is a lot of fun. It's also a great brain game. I hope you enjoy it!
Published: 09/06/2013
Last Updated: 06/11/2020
Game distributed by 2GrandeArcade.com. Used with Permission.