How to Run Flash Games in Google Chrome
Most of the old Adobe Flash games no longer work. See below for explanation. There are a few exceptions (see "Ruffle Flash" below).
For the current online games, please visit the Free Online Brain Games page.
This page is retired. The tips below have become outdated and there is no salvaging it.

As you may have heard, Adobe Flash is scheduled to sunset from the web, that is, no longer work, by the end of 2020. Even so, I'm surprised how quickly the checklist below became outdated due to the flurry of changes in the way Google Chrome handles Adobe Flash.
For the time being, Google Chrome can still run Flash Games. After 2020 this will no longer be the case. Please see the "Game Tips" in the sidebar at right for guidance on how to run Flash Games in Google Chrome and other browsers, for now.
This page provides help for anyone having trouble running Flash games in Google Chrome. These instructions are for Windows users on a desktop computer. If you are on a different operating system or device, these tips might still be helpful.

Issues you might run into when trying to open a flash game in Chrome include: A blank window instead of the game, weird error messages or warnings, or the game tries to download itself to your computer.
These and other problems are often Chrome browser "set-up" issues. Usually it's not caused by the game itself or the game website.
You can often fix the browser issues yourself. If you've been having problems getting flash games to run in your Chrome browser, follow the troubleshooting checklist below.
Checklist: Getting Flash Games to Run in Chrome
Below is a checklist I've put together so you can troubleshoot your game issues with Chrome.
If these steps don't work for you, there might be something else going on. Please see my main troubleshooting page for more things you can check.
Short on Time? If you're seeing a blank space in Chrome where the game is supposed to be, here is a quick fix that sometimes works:
Type chrome://settings/content/flash in your browser address bar. This opens the Chrome Flash Settings page. Then,
1) Set the "Allow sites to run Flash" slider to ON.
2) Set the "Ask First" slider to OFF.
Alternatively, you can try leaving Ask First set to "on" and entering the website url in the "Allow" section.
Note: Flash games no longer run in Chrome's "Incognito" mode, as far as I can tell. Use regular Chrome (or a different browser) instead.
By the way, a quick way to get playing right away is to simply open the game page in a different browser. For example, the most recent versions of Firefox and Internet Explorer seem to run flash games well.
STEP 1 - Verify Your Chrome Browser Version
Make sure you're not running a really old version of Chrome. The modern Chrome browser is designed to auto-update, so this is unlikely. But you may as well check.
Running an old version would mean that over time you are missing out on security patches and updates. That would not be good.
To check your version of Chrome, click the three dots button (

) in the upper right corner of your Chrome browser. From that menu, choose Help → About Google Chrome.
A message should appear on the About page that says, "Google Chrome is up to date".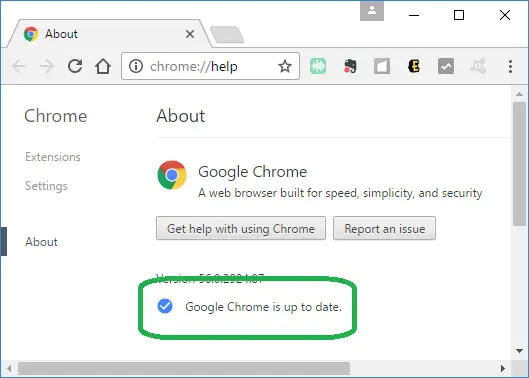 If your Chrome browser isn't up-to-date for some reason, download and install the latest version. If your browser is outdated, there should be a link on the About screen where you can do this.
You might be tempted to skip this step, but don't! It's an easy step and only takes a few moments to verify your Chrome version and update it if needed.
STEP 2 *SKIP THIS STEP* - Permit the Flash Plug-in to Run
UPDATE: You can skip this step. Go straight to Step 3. Google has apparently removed the "chrome://plugins" toggle, so Step 2 is no longer necessary.
Chrome has it's own built-in flash player. That great because it is extra-secure. But you need to make sure Chrome's flash player is enabled.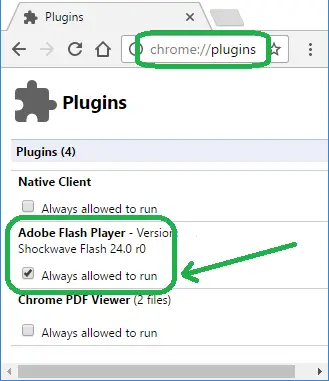 To do this, type chrome://plugins in your Chrome address bar, then press the ENTER key. This displays the Plug-ins screen which lists the plug-ins installed in your browser.
Look for the "Adobe Flash Player" section. If there's no checkmark in the checkbox, that means the flash player, which runs the games, probably isn't activated.
Click the checkbox to enter a checkmark and activate the flash player. There isn't a save button on the Plugins screen. After entering the checkmark, you can just close the tab.
Don't worry that it says the flash player can "always" run. As far as I can tell, that checkbox is just an on/off switch for the flash player.
In the next step, you'll have the chance to actually restrict when the flash player is allowed to run.
STEP 3 - Enable Flash on Individual Websites
It's possible the flash player is working but your Chrome browser may be set up to block flash on all websites. Obviously the games won't work if you have it set that way.
To fix this, click the three dots button (

) in the upper right corner of your Chrome browser. In that menu, click the Settings option which opens the Settings screen.
Scroll down in the Settings screen until you see a "Show advanced settings" link. Click that link, then click the Privacy → Content settings button. This opens Chrome's Content Settings pop-up window. (You can get to this pop-up directly by typing chrome://settings/content in your address bar and pressing ENTER.)
In the Content Settings window, scroll down to the Flash section. Now either select the "Ask first before allowing sites to run Flash" radio button, or select the "Block sites from running Flash" radio button.
1) Ask first. (Easiest to Set Up) If you choose "Ask first", you may need to right click on the flash game and choose "Run Adobe Flash", or a similar option, each time you want to play the game. But choosing the radio button and clicking Done is all you have to do for this option.
2) Block sites. (Slightly More Complicated) If you choose the "Block sites" option, you'll need to enter the web address of any site on which you want to run flash games. This is called "white listing" the sites.
To do this, click the Manage Exceptions button below the "Block sites" radio button." This displays the Flash Exceptions window.
Scroll to the bottom of the Flash Exceptions window, and type in or paste the URL of the website you want to white list for Flash. For example, copy/paste "https://www.memory-improvement-tips.com/" if you want to run the hundreds of free flash games that are here on my site.
Make sure the button to the right of the URL in the Flash Exceptions window says "Allow". Then click the Done button in the lower right of the Flash Exceptions and the Content Settings windows to save your changes.
STEP 4 - *SKIP THIS STEP* - If You Are Using Chrome in "Incognito" Mode
UPDATE. Google changed Chrome's code, and this trick no longer works. Flash games can no longer run in Chrome Incognito mode, as far as I can tell.
Instead, use regular Chrome or open the game pages in a different browser.
You might find that Flash files such as games open for you in regular Chrome but not in Chrome Incognito mode. Here is a little trick to getting flash games to run in Incognito.
First type "chrome://flags" in the Incognito address bar. This opens Chrome's Experimental Settings page. This is also known as the flags page.
On that page, press CTRL+F (or just scroll down) and search for the word "Flash" in the settings names. Look for the Prefer HTML over Flash setting. That's the one you want.
Using the pull-down option, change the Prefer HTML over Flash setting from Default to "Disabled". Then click the Relaunch Now button at the bottom of the screen to save your changes.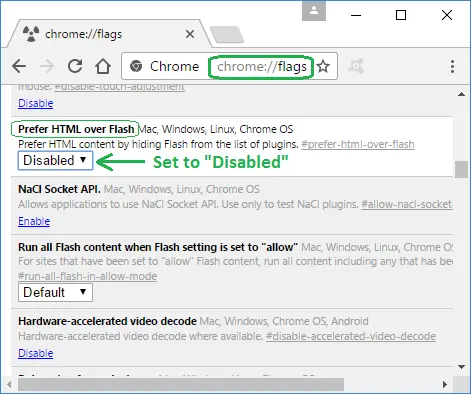 After making that change, flash games should run in Incognito, assuming the other Flash settings discussed in Steps 1-3 above are set up correctly.
That's it for the checklist! I know all that may look a bit confusing, but that's the way the Chrome designers have it set up currently. Take your time, and you'll see it's actually not too complicated.
See If the Games Are Now Working
Now see whether you fixed the problem. After following the steps above, try opening a couple of your favorite flash games again. For example, try Cube Field or Scrabble Sprint.
If the games still won't run, try closing the Chrome browser and rebooting your computer. Sometimes this refreshes the browser with the updates you made and the games may start working.
If you tried everything and just can't get flash games to run in Chrome, send a message to me through my Contact Me page.
I'm happy to try and help, although I can't guarantee anything. Sometimes the fix is simple, but in other rare situations the reason the games won't run for someone remains a mystery.
I predict the Chrome team will continue tightening their leash around Adobe Flash in coming months and years. It is my hope that things will settle down to a new normal so we don't have to keep adjusting our browser settings, but who knows.
It's my aim to keep this page updated as new versions of Chrome are released and to explain whatever new settings may come down the pipe with regard to playing flash games.
What is Flash? Why the Need for this Checklist?
The games on this website (and many other sites) are written in Adobe Flash, a type of game software. I personally like flash games a lot.
Flash games look good, they can have lots of features, and they load fast on a reasonable internet connection. Also, you can expand many of them to full-screen size which makes for fabulous game playing on a large desktop monitor.
However, lately the developers of Chrome have been restricting the way flash games are handled in the Chrome browser. Their goal is to increase your online security. This is a good thing.
But it also means that if you don't have your Chrome browser set up right, the games might not run at all. When a new version of the Chrome browser is released, the flash games might suddenly not work for you anymore. You might assume that it is the game's fault, when in fact it's the browser.
The good news is that much of the time you can get the games running again in Chrome by tweaking a few settings in the browser, using the checklist above.
Final Thoughts
In my experience, most flash game problems relate to issues with the person's flash plug-in in their browser, or a browser setting isn't adjusted the way it needs to be. Very rarely is the game itself the problem.
After all, the flash games on my site (for example) have been played thousands of times over a period of 10 years by other visitors who didn't have problems. Before throwing your hand up in disgust that you can't play your favorite flash games in Chrome anymore, follow the troubleshooting steps above.
There's a special feeling of accomplishment when you solve your own PC issues and get your computer working the way you want it to again.

Published: 05/13/2017
Last Updated: 06/11/2020