Flash Curve Ball - Free Brain Game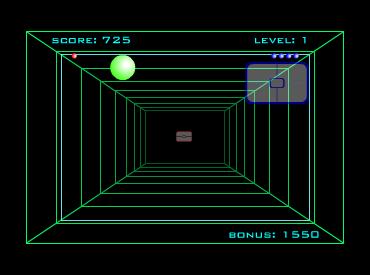 NOTE: Flash Curve Ball is not optimized for phones. Please visit this page on a tablet or desktop computer if you would like to play it.
Flash Curve Ball is a 3D ping-pong game you play against the computer. It's great for improving concentration.
To begin, click the Medium button under the picture of the game. This opens the game in a pop-up window.
The idea of this four-walled pong game is to "curve" your shots to make your opponent miss. The game gets faster as you complete each round.
Flash Curve Ball Instructions
If you like this game, you might also enjoy my Atari Breakout page.
Note: The instructions below are for the old Adobe Flash game.
The perspective is 3D, looking from behind you and facing your opponent. It's like playing pong in a tunnel.
HOW TO PLAY. Click the START GAME button on the game to begin. Click the ball to begin serving.
Make sure you drag your paddle in front of the ball when the computer hits it back to you. Hit the ball with the edge of your paddle for faster spin and super-curve shots.
Your current score is shown in the upper left. Your current level is displayed in the upper right. Click the HIGH SCORES button to see your highest scores (Flash version only).
The number of lives you have remaining is represented by the blue dots in the lower left. You start the game with 5 lives.
Each time your opponent wins a point, you number of lives (blue dots) decreases by one. The game is over once you've lost all five lives.
The Flash version of this game is re-sizeable. That means you can make it small, full-screen, or whatever size you prefer.
However, I find that I get higher scores and make it through more levels when the screen size is smaller rather than larger (less travel time for the paddle).
Still, the computer opponent in this flash curve ball game gets fast and accurate quick. About level 6 or 7 is the best I can do. A really great game for improving concentration.
Play concentration games like 3D Flash Curve Ball often to give your brain a boost!
Published: 04/24/2010
Last Updated: 06/11/2020