Escapa! Challenge - Free Brain Game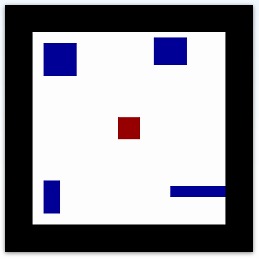 A friend sent me this Escapa game through email. This addictive game is great for improving mental focus and reaction time.
To begin, click the Medium button under the picture of the game. This opens the game in a pop-up window.
The object is to move the red block around (by dragging it with your mouse) for as long as you can, without getting hit by the blue blocks or touching the black walls.
This game was built with javascript. Like the HTML5 games, it does not require the Adobe Flash player.
Escapa Game - Instructions
This sounds seems super easy. Except that the blue blocks start moving faster and faster!
This game is written in JavaScript. That means you don't need the Adobe Flash player in your browser to play it. The game should just open right up.
However, it is not a pure HTML5 game in that sense. So while this game should work fine on desktop computers, it may not work on mobile devices.
NOTE: If the edges of the game pop-up window cover up part of the game, simply click the Maximize button in the upper right of the pop-up. That will make the game pop-up window full-screen.
This situation can happen if the default zoom percentage on your browser is set to greater than 100%.
SCORE. What's a good score in this game? Well, if you can go longer than 18 seconds, it has been said you are phenomenal (really good).
Apparently you must have keen eyesight, fast reflexes, and a concentrated mind to be able to keep going that long.
It's been said that the US Air Force uses this for fighter pilots. They are expected to go for at least 2 minutes!!
My personal best is 24.187 seconds. I think I just got lucky that time :)
In terms of strategy, I find I can last longer if I keep my eye pegged on the red square. In other words, keep the red square at the center of your visual field.
Also, it kind of helps to keep your red square near the center of the game. Remember, you not only have to avoid the blue enemies, you're also not allowed to touch the walls.
I have no idea who wrote this game. I've seen it on several websites around the Internet. If you are the author, feel free to email me, and I'll give you the credit.
Published: 12/01/2007
Last Updated: 06/11/2020