Demolition City 2 - Free Brain Game
NOTE: This is an old Adobe Flash game. It no longer works.
Please visit the Free Online Brain Games page for the current online games.
In this Demolition City 2 game, use logic and reasoning to knock down unwanted buildings on five islands. Get paid bonus cash for efficient demolitions.
click the Small, Medium, or Large link under the picture of the game. This opens the game in a pop-up window.
Similar Games: Angry Birds, Bloons Game, Inca Ball
Demolition City 2 - Instructions
Demolition City is a physics game. Determine best placement for your charges, then light them up and watch the buildings fall. The more completely you knock down a building, the more bonus money you get paid for the job.
HOW TO PLAY.  As mentioned above, the object of this game is to demolish buildings. But you have to do this neatly and efficiently, as a demo expert would do.
If you've ever watched one of those demolition shows on public television, you know what I mean.
Usually the idea is to eliminate an old structure either something new can be built in that location or to remove a hazard of some kind. I've seen them take down steel bridges, old skyscrapers, and even sink derelict ships.
Taking down buildings is your job in Demolition City. It really is a job, too. You get paid game money and everything. If you do the job well, you receive bonus money that you can use to purchase better demo tools.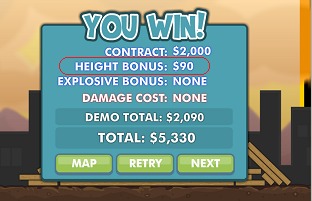 Each demolition contract is worth a certain amount of money. If you successfully knock down the building, you get the contract cash, plus a bonus. How much you get paid for a bonus depends on the final height of the building after you've destroyed it.
If your charges are well-placed - based on logic, reasoning, and your knowledge of physics - the building will collapse all the way to the ground. If you don't place your charges well, the building might not collapse completely.
If the rubble reaching above the height limit (marked on screen by a dashed line), you won't get a bonus payment for the job. On the other hand, if you manage to demolish the building without using all your charges, you'll get an extra bonus payment for being so efficient.
The bonuses are important, because you need as much money as possible to upgrade your toolbox. Between contracts, you have the opportunity to click on your toolbox and purchase upgraded demo charges.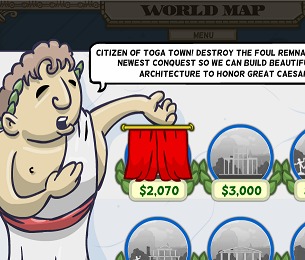 For example, when the game begins, you set a single dyna charge at a time. For a mere $1,000, you can upgrade to triple dyna.
That's three sticks together. They pack quite a punch! Of course, for even more money you can buy even more powerful charges to help get the job done.
Upgrading charges is mandatory if you want to progress through all the levels in Demolition City. The reason is that smaller charges (such as a single stick of dynam.) are not powerful enough to break stronger materials.
In the beginning, you are assigned to knock down wooden structures, but the later steel structures require more than a single stick of dynam., or even a triple stick, to bring down.
Demolition City actually consists of more than just one city. In fact, it is five different cities located on different islands!
The first is Gunslinger City, where there are five wooden buildings that need to be blown up. After you've cleared that island, you unlock the next one, Toga Town, where there are six marble structures to destroy. And so on.
Physics games like this one (as well as the original Demo City game) make wonderful brain games.
Forcing you to concentrate and think through a problem in advance strengthens logical reasoning ability. This game is quite entertaining, too. Enjoy!
Published: 09/24/2011
Last Updated: 06/11/2020