Daily Printable Crossword Puzzle
Daily Printable Crossword Puzzle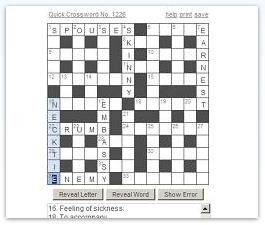 This daily printable crossword puzzle is a great workout for your brain.
Solving crosswords helps train concentration, analytical ability, and memory.
You can print this crossword, or play on your screen. If you play on-screen, you can save your work! A new crossword displays every day.
Daily Printable Crossword Puzzle Instructions
To begin, click the Medium link at left to open today's puzzle in a pop-up window.
Click the clue below the puzzle that you want to answer. The row or column in the puzzle for that clue will turn light blue. Click in the first square of the row or column to display the cursor. Then just type your answer.
HOW TO PLAY. If you need a hint, place the cursor in a square and click the Reveal Letter button. To see the entire word, click the Reveal Word button.
If you think you made a mistake, click the Show Error button and your mistakes will be highlighted in red.
HOW TO PRINT. To print out the puzzle, click the "Print" link in the upper right corner. A printable version of the puzzle appears in a new window.
Select File - Print to print it out. To print the puzzle solution, click the "Print Solution" button on that window.
Crosswords Strategy
Only some geniuses know every answer to medium or hard crossword puzzles. My grandfather was very good at crossword puzzles, but then again he practiced almost every day.
The rest of us need to use crossword puzzle strategies to have any hope of completing most (or even all!) of a particular crossword.
One obvious strategy, and a strategy I use every time, is to go through the list of hints and fill in the easy answers first.
On a difficult puzzle, such as a crossword from the New York Times, there might not be any easy ones. But you have to start somewhere.

Gotta run, but I'll add more crossword strategies to this page soon.
I hope you enjoy this daily crossword. Solve a puzzle a day to keep your brain sharp!
Published: 02/21/2010
Last Updated: 06/11/2020
Game distributed by PuzzlersCave.com. Used with Permission.