Crazy Chess - Free Online Brain Game
NOTE: This is an old Adobe Flash game. It no longer works.
Please visit the Free Online Brain Games page for the current online games.
Crazy Chess isn't really chess, but it does involve one Knight and endless Pawns.
In this free online brain game, use your single Knight to defend your castle from an onslaught of enemy Pawns.
To begin, click the Small, Medium, or Large link under the picture of the game. This opens the chess game in a new window.
Crazy Chess - Instructions
Pick up gold and power ups along the way. Work your way through multiple levels as the action gets faster and more intense.
Note: This game can be played in full screen mode on most browsers. To access full screen mode, first make the game pop-up window full screen by clicking the maximize button in the upper right corner (looks like a small square). Then right-click the game and choose Zoom In.
If you like this Crazy Chess game, you might enjoy the many other free online board games on this site such as 3D Chess, Mancala, and Scrabble Sprint.
How to Play Chess. Don't know how to play chess? Watch the video below, "Learn to Play Chess in 12 Minutes." It's a quick introduction to the rules.
(At the end of the video is a link to another video by the same YouTuber that explains 24 tactics and strategies for winning at chess.)
Like regular chess, Crazy Chess trains visualization ability. You have to remember the L-shape move allowed by the Knight and plan ahead to land on squares where a power-up or enemy Pawn might be located.
HOW TO PLAY THIS GAME. The enemy has sent an army of Pawns to capture your castle. Only a single Knight (that's you!) remains to defend the realm.
At the beginning of the game, you need to click a square on the chess board where you want your Knight to start out. I'd recommend a central location.
That way you can quickly jump to any gold or power-ups that appear as well as attacking Pawns as they drop down from the top.
The bottom of the chess board is your castle. The invading Pawns move one square at a time from the top edge of the board.
If an enemy Pawn reaches your castle wall at the bottom of the board, he will damage the wall. Enough damage, and the enemy captures your castle. It only takes 8 black Pawns to destroy your castle.
To stop an enemy Pawn, simply jump on top of it with your Knight. As in real chess, the Knight can only move in an L-shaped pattern. Be careful, though. The enemy Pawns can capture you!
As in regular chess, the Pawns in Crazy Chess attack diagonally. If your Knight sits too long on a diagonal next to an enemy Pawn, you will lose the Knight.
You get three lives, although you can earn more by collecting the Extra Life power up (see below).
You'll need to carefully visualize the available landing square as you quickly plan your moves. The higher the level of difficulty you've selected, the faster the enemy Pawns descend from the top.
Tip: Earn combos by capturing more than one Pawn in a row. In other words, by capturing Pawns consecutively without landing on empty spaces or on Powerups.
Difficulty Mode
When you first open the Crazy Chess game, a Select Mode screen appears. Click the level of difficulty you want to attempt.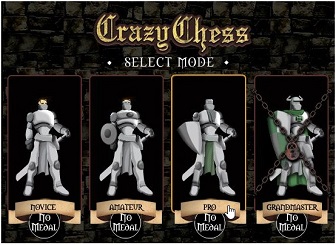 Difficulty Selection screen
Difficulty levels include Novice, Amateur, Pro, and Grand Master. The Pro is the highest level you can pick without any previous accomplishments.
Novice means rote beginner. So if you have no experience with chess or with moving the Knight piece, start out with that. Because I've played chess before, I found that level too easy and a bit boring.
The Amateur level is a little harder. The enemy pawns drop a bit faster.
Pro is no joke. You'll really have to be quick to defeat all the enemy Pawns while collecting the gold and power ups.
As you progress to higher levels, you can earn rewards. These include Bronze, Silver, Gold, and Platinum medals. To unlock Grand Master, you'll need to first earn a Silver Medal in Pro mode.
Help and Options for Crazy Chess
This chess puzzle game contains a Help screen and Options. You can access these by click the Options button or the Help button from the Crazy Chess title screen when the game opens.
For example, Hints display automatically to help you become familiar with the game. You can turn these off by clicking the Turn Hints Off button on the Options screen.
If you don't want to hear the game's music and sound effects, click the Turn Sound Off button on the Options screen.
The Help screen can only be accessed from the title screen. On the Help screen, you'll find a description of the objectives of the game as well as a link to the Power-ups Section.
Power Ups
You'll have more success in this game if you try to collect as many Power Ups as possible. Power Ups give you special bonus benefits and advantages against the enemy Pawns.
Available Power Ups include:
Speed Up Knight. Makes your Knight go faster temporarily.

Slow Down Pawns. The enemy Pawns temporarily move much slower, making it easier for you to capture more of them.

Crazy Chess power ups

Capture Nearby Pawns. Instantly capture all Pawns that are close to your Knight.

Capture All Pawns. Instantly capture all Pawns currently on the board.

Freeze Pawns. Causes all Pawns on the board to stay on their current squares for a short while.

Invisible Knight. I've never collected this Power Up, so I actually don't know what it does. Perhaps it protects your Knight from being captured.

Extra Life. As the name says, it gives you an extra life.

Repair Castle. This Power Up repairs damage to your castle that has been done by enemy Pawns.
It's true Crazy Chess isn't really chess. But it is a fun online brain game that trains important mental skills like spatial reasoning and reaction time.
Even if you don't play regular chess, this chess-related game is a good way to train your brain. It might even inspire you to learn to play the real game of chess.
Published: 11/06/2015
Last Updated: 09/19/2020