ColorJunction - Free Brain Game
NOTE: This is an old Adobe Flash game. It no longer works.
Please visit the Free Online Brain Games page for the current online games.
ColorJunction is a simply but challenging logic puzzle. The goal is to clear all the pieces from the board. This game trains concentration, visual perception, and pattern recognition.
To begin, click the Small, Medium, or Large link under the picture of the game. This opens the game in a pop-up window.
To remove pieces, click on at least two connected ones of the same color.
Color Junction - Instructions
The tricky part of this puzzle is thinking ahead, so there are colored pieces touching when you get to the end.
If you like this game, you may also enjoy the other free online puzzle games on this site, such as Candy Crush Speed Challenge or Gravity Grid.
If you just randomly click pieces, there will be left over pieces at the end that you can't remove. The lower-right corner of the puzzle keeps count of the remaining pieces for you.
Try to clear all the pieces for a great brain workout!
Note: To reshuffle the pieces and start over, click the Restart arrow in the lower left corner of the game.
BLOCK MOVER GAME. As mentioned in the box above, the Color Junction game is gone. A lot of people enjoyed that game, but when Google disbanded the iGoogle site Color Junction was history.
Fortunately there are other free online games that approximate the game play of Color Junction. One of these is Block Mover.
I left the Color Junction image at the top of the page for historical purposes, but when you click the Small, Medium, or Large link under the picture above the Block Mover game opens instead.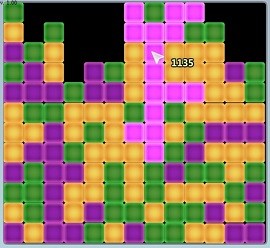 Block Mover game
Block Mover follows the same general rules as Color Junction. Click groups of three or more blocks of the same color to remove those blocks from the screen.
The goal is to plan ahead so that you remove all the blocks from the screen. That's the best you can achieve with each level, but you don't have to remove all the blocks to proceed to the next level.
You can even keep track of your score in Block Mover. The larger the group of blocks that you remove at one time, the more points you get.
To view your score, click the Stats button on the right side of the game. The Stats window shows your Levels Cleared, Levels Failed, %Won, Max block groups cleared, and Time Played.
Give Block Mover a try! It's a great brain game that trains concentration and spatial reasoning. If you enjoyed Color Junction, you'll probably like Block Mover as well.
Published: 01/28/2008
Last Updated: 06/11/2020