Chinese Checkers Strategy
Chinese Checkers Strategy
These Chinese Checkers strategy tips will give you an advantage. Find out which moves work best!
To play Chinese Checkers in your browser right now for free, see the Online Chinese Checkers page.
Your opening moves are a very important part of your strategy. A good start can make the difference between quickly advancing your marbles across the board or struggling in your own corner.
Experienced players commonly use only a few opening moves. There are 14 possible moves, but an experienced player uses only two:
Opening Move 1: The most common opening is moving one of the marbles on either end of the first row inward toward the center.

Opening Move 2: Much less commonly, the experienced player might move one of the marbles on either end of the first row outward.
These two possible opening moves are illustrated by the image below.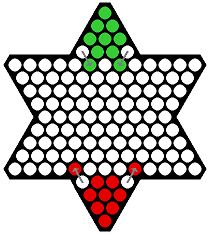 Image credit: Luis Dantas, Wikimedia Commons
The green player has moved his front-row end marbles inward (Opening Move 1). This move is the first move needed for the two most common openings known as the "sidewinder" and "cross caterpillar" openings.
The red player has moved his front-row end marbles outward (Opening Move 2). This move is sometimes used by more advanced players.
The outward move is the first move needed for the Chinese Checkers strategy known as the "squad" opening and other such openings.
OTHER HINTS: Regardless of the opening you use, your goal is to get your marbles as far as possible. Even so, it is not always a good idea to jump as far as it is possible to go. At times, it can be better to block your opponent's jumps if possible.
Similar to Chess game strategy, you also want to keep your pieces near the center of the board. If you allow one or two marbles to stray to the side, there is a chance they will become stranded. If this happens, you may end up wasting moves getting them back into position.
Once you start to get your marbles inside your goal area, move them to the sides. This opens up space in the middle of the goal area for incoming pieces. However, always keep in mind that you want to get all your pieces into the goal in the shortest number of moves.
Finally, keep an eye on the piece that is furthest from the goal. You never want to let this piece get too far behind. Otherwise, again, you may waste time and moves getting that lagging piece to the goal.
Published: 01/23/2010
Last Updated: 06/11/2020