Brain Safari - Logic, Math, Memory & Vision
NOTE: This is an old Adobe Flash game. It no longer works.
Please visit the Free Online Brain Games page for the current online games.
Get ready for a brain-training jungle adventure.
It's Brain Safari, a free brain game that strengthens not one, not two, but four different brain skills!
To begin, click the Small, Medium, or Large link under the picture of the game. This opens the game in a pop-up window.
Brain Safari - Instructions
Within Brain Safari there are 2 minigames for each brain ability, for a total of 8 minigames. By playing these minigames, you train logic, math, memory, and visual skills.
The brain skill areas are Analyze, Calculate, Memory, and Visual. The minigames themselves all have a fun safari theme involving jungle fruit and animals. As "Safari" implies, this game really is a journey through the jungle of the brain.
The minigames become more difficult as you make progress, so your brain is sure to get a workout every time. Brain Safari remembers your profile from session to session, including your name and high scores, which is a neat feature.
If you like this game, you might also enjoy Brain Power Zoo.
HOW TO PLAY. There are three options on the main screen when the game opens. Start playing the minigames, change your player name, or check the high scores.
To begin playing, click the PLAY! button. This displays the game mode buttons, "Normal" and "Practice".
If you want to practice your brain skills without keeping score, click the Practice button. To play for points, click the Normal button.
Normal Mode. In normal mode, you don't choose your minigame. Brain Safari selects the game for you. For example, the Jungle Scale game might appear the first time you play. Next time, the Hut Parade game might be the first minigame to appear.
Practice Mode. The Practice screen lists the available brain skill sections, which are Analyze, Calculate, Memory, and Visual. Click the brain skill you want to train.
To return to the main menu from the Practice screen, click the Back button (the green arrow in the lower right). On other screens, you can return to the main menu by clicking the Home button in the upper left corner.
Brain Safari Minigames List
Below are descriptions of the 8 minigames. All the minigames are timed with a 60-second count-down timer. Answer quickly and accurately if you want a high score.
ANALYZE: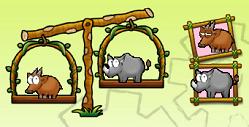 CALCULATE: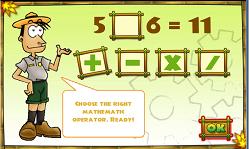 MEMORY: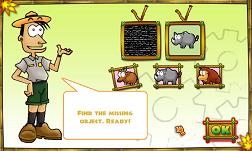 VISUAL: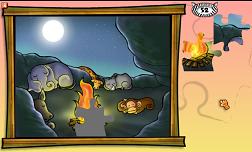 Research indicates that brain games and other video games train specific mental abilities, not the overall mind.
In other words, there is no single game, other than perhaps Dual N-Back, that trains your entire brain at once.
That's why it's important to play a variety of games if your goal is to boost your brain power. (For more information, see the Brain Games main page.)
Brain Safari is an excellent choice, because within this single game you have the opportunity to train four separate brain skills.
Play Brain Safari often, and work to improve your top scores!
Published: 07/23/2013
Last Updated: 06/11/2020
Game distributed by FlashGamesForYourWebsite.com. Used with Permission.