Brain Follow - Free Brain Training Game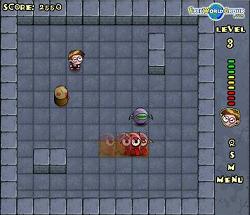 Brain Follow trains visual memory, as you memorize and recall the route taken by the brain monster. Follow the monster around the dungeon, but don't step off the path.
To begin, click the Small, Medium, or Large button under the picture of the game. This opens the game in a pop-up window.
Be careful, though. You need to follow the brain monster's path exactly. One false move, and you fall into the Pit of Despair, from which none may return.
Brain Follow Instructions
The instructions display first. If you want to skip the instructions, click the "Skip" button. I've reproduced the instructions below for your convenience.
If you like this game, you might also enjoy other free maze games on my site including Emerald Thief and Sneak Game.
HOW TO PLAY.  Follow the brain monster after he is released from his cage. Use the Arrow Keys on your keyboard to move your little boy character and follow the monster. Hold down the Spacebar to enter Speed Mode.
You also need to stay away from the other monsters in the room as you follow the brain monster around. Each level gets harder as the brain monster's path gets more complicated.
Here are the full instructions from the in-game Help file:
This game will challenge your brain and memory skills to the max. Your objective is to follow the exact path the brain creature takes to reach the level end.


You and the Brain Creature

Sound easy? You move slower than the brain creature. So you have to focus (and hold in your short-term memory) the path where it has gone, and which twists and turns it has taken.

Still easy? There are demons and other obstacles that will make your life unpleasant and following the creature's path more difficult.


Brain Follow obstacles

Remember: You cannot leave the path the creature has taken. You can move backward and forward on that path, but you cannot move off at any point.

Follow the creature's path exactly

Good luck, and have fun remembering!

Controls: Arrow keys to move; Spacebar to use your speed skill.
While Brain Follow is a lot of fun, it can also help boost your brain power. In addition to short-term memory, brain skills related to thinking speed may be strengthened by playing this game and others like it.
Such skills include spatial orientation, information processing, and visual perception.
Published: 02/27/2009
Last Updated: 06/11/2020