All Or None - Free Online Brain Game
All Or None is a challenging brain game that tests concentration, logical reasoning, and visual perception. Play it online free.
Choose three cards that either match OR don't match with regard to color, shape, fill, or number. It's tough!
To begin, click the Small, Medium, or Large link under the picture at left. This opens the game in a pop-up window.
All Or None - Instructions
To begin playing, wait for the game to load, then click the START button.
If you like this game, you might enjoy the other free card and tile games on this site.
HOW TO PLAY. In All Or None, your goal is to select groups of 3 matching (or non-matching) cards. You get 1 point for every correct match.
You need to not only focus intently in this game. You've only got 2 minutes to score as many points as you can. Plus, if you choose wrongly, a point is deducted from your score.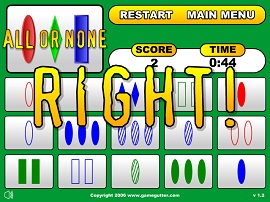 Got it Right!
So here's how it works: There is a deck of 81 cards. Fifteen cards are displayed on the screen at a time.
Each card has 4 properties: color, shape, fill, and number. For example, on a particular card you might see two blue shaded diamonds. So that card has blue, diamond, shaded, and two as its properties.
What you need to do is select 3 cards that have either all the same of a property or all different.
To select a card, simply click it once. After you click the third of 3 cards, a message displays either Right or Wrong on screen.
For example, a correct 3-of-a-kind would be: 1) 3 shaded red ovals, plus 2) shaded blue ovals, plus 3) 1 shaded green oval.
That is valid because those three cards have different colors, same shading, same fill, and different number.
All Or None is not your typical card game. But it sure is a challenge and a great brain game. See how high of a score you can earn.
Play this game every day for awhile to give your brain a boost!
If you'd like to post your score for others to see, feel free to take a screen print and post it in the FB Comments section below.
Game distributed by FreeGamesForYour Website.com. Used with Permission.
You May Also Like
If you found the page above interesting, fun, or useful, please click the "Like" and/or "+1" buttons below. Feel free to leave a comment as well. Thanks very much!